Tablet PC MVPs Review The Lenovo Thinkpad X60 Tablet PC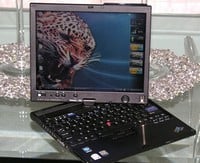 A couple of my Tablet PC MVP colleagues have posted noteworthy looks at the Lenovo Thinkpad X60 Tablet PC.
Marc Orchant has been eyeing the X60 for awhile and is giving it a once over. He posts some first impressions before loading it up and heading to Redmond for the Microsoft Global MVP Summit. (Side note: alas, due to theatre business, I'm unable to join the gang for the Summit but I'm looking forward to reports.)
Linda Epstein has not only published a review but bestowed her Editor's Choice award on the X60 at TabletPC2.com. Unlike Marc, Linda has the multi-touch X60 and comments extensively on that choice as well as just about every facet of the X60, including some of the included software. She also includes some news that those seeing issues with the Intel Wireless only connecting at 60% should see a driver update on this soon.
Both posts are definitely worth checking out.

As an Amazon Associate I earn from qualifying purchases.