Tablet PC2 Gives The OtterBox 730 Rugged Laptop Case A Once Over
Linda Epstein of Tablet PC2.com has given the Otterbox 7030 Rugged Laptop Case a thorough going over and awarded it the August 2006 TabletPC2.com Product of the Month. This diagram is from the OtterBox site.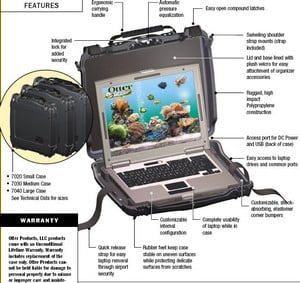 There is a great set of photos of the case with various Tablet PCs and UMPCs displayed in the case (and one furry feline), and it sure seems to be rugged enough to bounce a device around in. Although for my money I'd love to see it submerged in a deeper stream to really check it out.
Hey, Dennis and Rob, I think we should get some review units of ruggedized pcs and cases and really give them a workout. Whaddya think? That would make some compelling InkShow viewing.