Tablet PC2's Product of the Month: Card Scan Executive
Maybe I'm lazy, maybe I'm just old fashioned. I'm never used a business card scanner to enter business card info into Outlook. I've always done it manually, usally on a lazy Saturday afternoon or an evening while scanning TV. Maybe that will change. Linda Epstein at TabletPC2.com has given the Card Scan Executive her Product of the Month designation and based on her review it sure looks like an attractive option.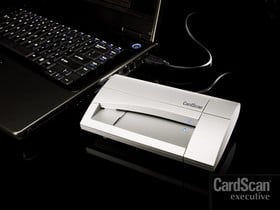 Prior to using the Card Scan Executive Linda described how she used ziploc bags to store business cards from different events as they awaited data input. I use a similar method. I do a number of public appearances and I have a half a zillion coffee mugs on my desk that were given as tokens of thanks. Each one has a collection of business cards stored in them waiting to be processed. So, if I go with a Card Scan Executive or some other option, what do I do with all those coffee mugs?

As an Amazon Associate I earn from qualifying purchases.