Tablet PC's are in the air again!
–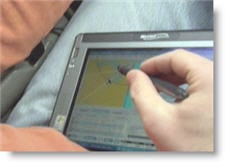 Very cool video about technology in flying ON "10", whis is a great site dedicated to showing innovative uses on new technology. David Hale of Microsoft and others talk about using the Tablet PC as a tech tool for flying. David takes the reporter on a flight that he plans and executes all on his handy Motion LS800.
According to David, using a Tablet PC for navigation, weather, flight planning, etc., makes the process of flying "brain dead". Hmm, I like my Tablet, but not sure I trust it that much!
This video is well worth watching!
Thanks to Aaron Axvig for the tip to this video!