Tablet PCs And People With Disabilities
In a recent GottaBeMobile.com Audio Inkshow interview with Jim Forbes of ForbesOnTech, Jim mentioned a disturbing instance where two PR flacks representing two different Tablet PC OEMs told him he couldn't review their respective client's Tablet PCs. Why? Because he had suffered a stroke and that might effect his handwriting. Jim mentioned that we would talk about this off-line. We did following the interview. I am still astounded at the story.
Now, Jim has decided to blog more about this on ForbesOnTech. I'm glad he did. To quote Jim, "Their comments were not only personally infuriating, they demonstrate a level of ignorance that hurt their clients."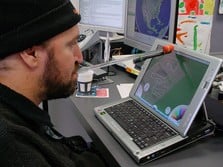 I couldn't agree more. Read Jim's post. He lays out the argument (there really shouldn't be any argument) better than I can. In addition to reading Jim's words, take a look at Dave the LifeKludger's (pictured here) blogging about his experiences using a Tablet PC with a handicap.
Tablet PCs offer choice, flexibility, and options for inputing data and creativity that non-Tablets do not. Those of us who follow the Tabletscape often smack our heads and wonder why Tablet PCs aren't adopted more quickly. With OEMs and their PR flacks exhibiting such limited imaginations and paranoid views on possibilities, I don't think it is difficult to see why. These two companies, led by the off-track instincts of their PR puffins, not only missed an opportunity, they just didn't do their jobs. Jim Forbes is kind enough not to mention the names of the two flacks. A part of me thinks that is just too bad.
There is a fork in the road here and of course that means a choice. One path follows ignorance and fear and lacks vision. The other offers opportunity by reaching out to disabled communities far beyond public relations and potential markets. That opportunity requires an understanding of both those communities, and I dare say the versatility of the products promoted.
So, Tablet PC OEMs here's a suggestion. Talk to Jim Forbes. Talk to Dave the Lifekludger. Two gentlemen who show not only the versatility of your products, but the versatility of the human spirit.
I wonder what PR guru Steve Rubel thinks about this?