Tablet PCs Making Noise In the Education Sector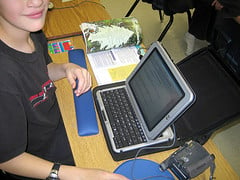 It seems not a week goes by that we don't hear about another school system adopting Tablet PCs as a part of the curriculum. This is of course good news, and in my opinion, using Tablet PCs in a classroom just makes so much common sense. Here are a couple of links that floated through my feeds today worth noting.
Via RobiNZ via Loren Heiny we learn The Brooklyn School in Wellington, New Zealand is using Tablet PCs in their 1st through 8th grades. Here's a link to more. I loved reading this:
Younger children will be introduced to ICT using tablet PCs that are interactive, user-friendly, fun and can be used without keyboards or mice. Project CHaOS will explore ways in which this technology can speed up the transition from pen based numeracy and literacy to digital numeracy and literacy.
Heaven forfend that we use mobile computers without keyboards and mice! What are we teaching the younger generation. Sorry, I just couldn't resist.
And then moving closer to home (for me at any rate), jkOnTheRun links to an article about St. Mary's University in Minnesota using Tablet PCs and iPods, with an achievment system created by Tegrity. Apparently lectures and presentations are recorded, and students can capture notes using either a Tablet PC or a Tegrity digital pen.
Now, I wonder if those using the iPods to listen to lectures will move over to Zune in the future?