Tablet + Phone bundles coming from ARCHOS + ALCATEL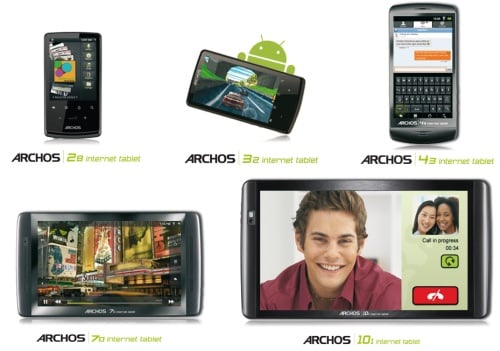 Momentum for the phone + tablet combo keeps building, and this time it's not just matter of mixing and matching your own pair of devices. Rather, tablet maker ARCHOS is partnering with phone maker ALCATEL ONE TOUCH to offer bundles of their respective wares.
The setup is pretty straightforward. Mobile Internet connectivity through the ALCATEL smartphone is shared via the mobile Wi-Fi hotspot functionality of Android 2.2 to the ARCHOS tablet. No fancy interoperability like RIM is doing between their BlackBerry and PlayBook, but enterprising users can take advantage of apps to do more than Internet sharing.
No word yet on how you can get one of these bundles, and in their joint statement they state the "offer is open to all telecom operators in Europe and the United States". This leads me to believe operators have yet to sign up. Presumably they will be working hard at the 2011 Mobile World Congress to sign those deals. Also no mention of price point, though again that's likely dependent on deals with wireless carriers.
Via Liliputing > ARMDevices.net > Android Community
ARCHOS and ALCATEL ONE TOUCH announce a partnership bundling a smartphone with a tablet

ALCATEL ONE TOUCH has partnered with the French manufacturer ARCHOS, leader in the Android-based internet tablet market, to offer a tablet bundled with an Android smart phone. This offer is open to all telecom operators in Europe and the United States. The proposition fits with the recently unveiled strategy of telecom operators to offer a single subscription for multiple connected devices by mid 2011. Using the "One Touch Connect" feature, this bundle lets users share the 3G connection of their smartphone with their ARCHOS internet tablet via the built in WiFi hotspot available in android version 2.2 (Froyo). Demonstrations will take place at the ALCATEL ONE TOUCH booth – AV06 – during Mobile World Congress in Barcelona from 14th to 17th of February 2011. During the fair, TCL Communication will also be revealing its new brand identity through ALCATEL ONE TOUCH. The objective of this new identity is to show the strong connection to the customers, and communicate this through a new brand expression together with better design and smarter products.

About ARCHOS

ARCHOS introduced the hard-drive-based MP3 player with the Jukebox 6000 in 2000, and since that time has revolutionized consumer electronics devices. The company introduced the portable video player in 2003 and was the first to bring TV recording, wireless and touch screens to the portable media player. In 2008, ARCHOS introduced the first Internet Media Tablets, offering consumers uncompromised access to the Internet, movies, photos, video, music and television anytime, anywhere. Now, ARCHOS introduce Internet Tablet, PC Tablets, Netbooks and MP3/MP4 Player. Established in 1988, ARCHOS has offices in the United States, Europe and Asia, and is quoted on Compartment C of Euronext Paris, ISIN Code FR0000182479.

About ALCATEL ONE TOUCH / TCL COMMUNICATION

ALCATEL ONE TOUCH designs, manufactures, and markets globally an expanding portfolio of mobile and Internet products designed to be as individual as the people who use them. Currently the fastest growing of the world's top ten mobile phone manufacturers, ALCATEL ONE TOUCH makes access to today's mobile lifestyle simple by offering colorful, easy-to-use devices equipped with the technology people need most at smart prices they can afford. ALCATEL ONE TOUCH is a brand of TCL Communication, a public company listed on the Hong Kong Stock Exchange (2618.HK) and part of TCL Corporation one of the largest consumer electronics companies in the world. For more information, please visit www.alcatelonetouch.com.

As an Amazon Associate I earn from qualifying purchases.