Tableteer's Lament: No Ink in the Cloud for Emails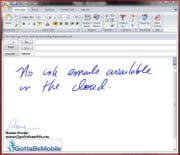 I don't ink emails very often. But when I need to, it is a blessing to have that option. Whip out the pen, scribble a quick response and send it off. But the more and more that I transition away from my traditional methods of email correspondence to using GMail as my standard, the further I get away from Outlook. Of course if I'm not using Outlook, (I use Outlook 2007) that means I can't Ink an email. Of course any other online or cloud email solution yields the same. Windows Live Hotmail certainly doesn't seem to be planning to offer Inking as an option in the near term either.
So, what's an Inker to do if he/she wants to use cloud applications for email and still be able to Ink up a response now and then? These are the types of compromises that I hate having to make, and I certainly wish I didn't have to.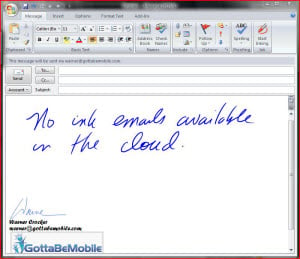 As an Amazon Associate I earn from qualifying purchases.