TabletKiosk eo i7210 UltraMobile PC InkShow!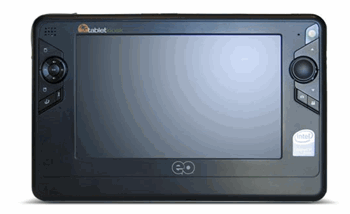 The TabletKiosk eo i7210 Ultra-Mobile PC!
Yes — its arrived, and caught me quite unready to do my job as trusty scoop reporter at GottaBeMobile.com. My video camera was out for repair, so a quick IM message to my neighbor Eddie Vanderbeck to borrow a camera solved that (nice to have tecchie neighbors). Then I needed a cameraman, but what I got was a camera"woman"! My poor wife got roped into using technology, which by the way is typically left up to me in this household (or maybe I just never let any of the others get a chance, not sure which!), and ran the camera for me in a hastily planned production! I had clients call needing work, but after all, priorities are priorities, so of course, I stopped everything and did the show!
This is just the first in a series of InkShows I planning with this unit, but I wanted to quickly get out a quick unboxing and walkaround of the machine with my first impressions. I am looking forward to lot of hours curled up with this thing,
If I mispeak any specs, etc., please forgive and promptly correct with kindness, as I said, it was a quick run through. I also must say that except for a couple of minor glitches here and there, my wife Sandra did a rather fine job of running the camera for the first tim in her life (hint-hint, tell her she did a good job — please!)! Thank you darling!
I gotta tell you folks, this thing feels really good in my hands, and I am looking forward to integrating it into my lifestyle. It feels solid, well built, and I think the configuration has been done well by TabletKiosk. Our thanks to Martin Smekal and staff (especially Gail Levy for putting up with all my emails and requests!) at TabletKiosk for getting us this unit so quickly!
Please let us know if there are questions you have, and we will get answers to you as soon as possible!
Enjoy the show.
All GottaBeMobile.com InkShows are sponsored by:

As an Amazon Associate I earn from qualifying purchases.