TabletKiosk i400 Sahara Slate Tablet PC to include outdoor display option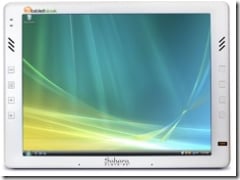 Yesterday, we let everyone know about TabletKiosk's new Sahara i400 series Tablet PC.
Gail Levy, of TabletKiosk, just let us know that they will be offering an Outdoor screen option for the i400 series at the end of March.
So, if you are in the market for an outdoor screen capable Tablet PC, your options just got a little wider.

As an Amazon Associate I earn from qualifying purchases.