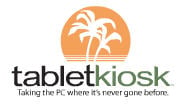 TabletKiosk has opened their own forums for users. As you would expect there are forum categories for each of the models of UMPC or Tablet PC that TabletKiosk is selling and also one for accessories. Several other OEMs have forums available and the communication between compaines and users is sometimes good, sometimes not so good. Asus is a prime example of the latter. Here's hoping TabletKiosk will have a strong presence in their own forums beyond just reading the posts.
Here is official word from TabletKiosk:
TabletKioskâ"¢, a leader in mobile computing solutions, has launched a new section on its website featuring FAQs and an online discussion forum www.tabletkiosk.com/forum functioning as a centralized support area for communicating with TabletKiosk staff members while providing users with a community knowledge base.

In the new TabletKiosk forum section, visitors will find online discussions offering assistance in solving specific issues and information about new product releases.

""We have added FAQ section and community support forum in response to customer requests", said Martin Smekal, president of TabletKiosk. ""We know that our customer base is anxious to communicate with one another for sharing success stories and troubleshooting. Therefore, we encourage our site visitors to browse, register and post their questions and experiences with our products."

To provide a more personalized user experience, TabletKiosk staff members, including representatives from Tech Support, Customer Service, Sales and Marketing, will monitor the forum section on an ongoing basis to answer specific questions. This will add an unprecedented level of responsiveness to assist TabletKiosk owners with their specific questions.

As an Amazon Associate I earn from qualifying purchases.