TabletKiosk Road Show Might Be Coming To A Town Near You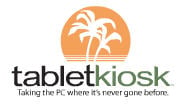 TabletKiosk is getting their act together and taking it on the road. TabletKiosk Demo Days is a roadshow for Tablet PC and UMPC enthusiasts that will be making stops in Anaheim, CA, Ft. Lauderdale, FL, Orlando, FL, and Houston, TX beginning Oct 19 and running through November 30. Check this link for specific dates in the specific locations.
We mostly hear about TableKiosk in the UMPC space, but don't forget that TabletKiosk also has the excellent Sahara Tablet PCs with both active digitizer and touch screen models. If you're close by, you really should check out the roadshow and get a chance to go hands on with their products.
If you can't make these locations (I can't) and want to see the roadshow come your way, drop them an email with your suggestion for where future roadshows should sit down.

As an Amazon Associate I earn from qualifying purchases.