TabletKiosk Roadshow, Anaheim pictures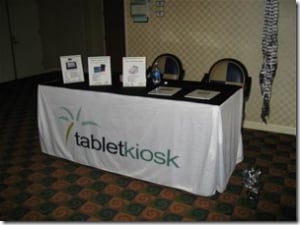 TabletKiosk has kicked off their Roadshow in Anaheim, and GottaBeMobile.com forum member Blowfish has posted 52 pictures of the event, along with this piece of great news concerning the i7200 eo Ultra-Mobile PC:
Chatting with Gail, she told me that TabletKiosk will be coming out with a new outdoor viewable screen for the i7200 series UMPC's. This will be an option for the i7200 series, and available most likely the beginning of next year. This was excellent news!
Checkout all the the great pics of the Sahara Tablet PC, the eo UMPC's, a prototype of the new rubberized casing for the eo v7110, TabletKiosk accessories, and more. Great job, Blowfish. We really appreciate this labor of love.

As an Amazon Associate I earn from qualifying purchases.