TabletKiosk Showing Off Two New Mobile Touch Screens for Casinos
In the madness that is all about consumer devices, it is often easy to forget that touch screens, mobile devices, and other geekery are also big market items for businesses. TabletKiosk is showing off a couple of new mobile touch screen solutions geared for casinos and their on the floor operations.
The eo a7330D, has a 7.1 inch screen with a dual digitizer. The juice comes from the Intel® Atom Z530P ULV processor. The device features interchangeable modules to make them more useful for different tasks, like swiping player cards and POS services.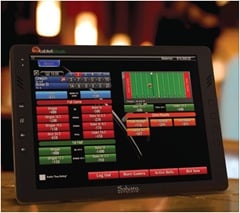 The Sahara NetSlate a230T has a 12.1 inch screen and is running the the Intel Atom N270 processor. It is designed to run client/server, or cloud -based, applications. TabletKiosk calls it an "entry level Tablet PC" and claims it offers businesses a lower cost solution if they don't need the full feature set of TK's other slate line.
Press Release after the jump.
LAS VEGAS, NV — November 17, 2009 — TabletKiosk®, a leading provider of mobile touch screen computing solutions,  continues to extend its presence in the casino industry by showcasing its newest handheld Tablet PCs and Ultra-Mobile PCs in booth #643 at the Global Gaming Expo (G2E). These mobile touch screen tablets offer improved value and productivity to casino professionals due to their mobile form factor and ability to run a full PC operating system.
The eoâ"¢ a7330D, powered by the Intel® Atomâ"¢ Z530P ULV processor features a "fit-in-your-hand" mobile design with a 7.1-inch dual mode digitizer and touch screen, dual hot swappable batteries and a revolutionary new modular expansion system that uses interchangeable modules to enhance the device's functionality for specific tasks including swiping player cards and mobile POS. In order to highlight the eo platform as a mobile point-of-sale terminal, representatives from TabletKiosk will demonstrate the new eo a7330D running Focus POS, a leading restaurant management software application.
The Sahara NetSlate™ a230T, powered by the Intel® Atom™ N270 processor, features a 12.1-inch resistive touch screen and is designed to run client/server, or cloud -based, applications. This new entry-level Tablet PC is an affordable option for businesses looking for a touch screen tablet solution, without the enhanced feature-set or processing power of the existing Sahara Slate PC® i400 series of Tablet PCs. At G2E, representatives from TabletKiosk will demonstrate the Sahara NetSlate running several restaurant entertainment applications from TapCode, a leading provider of self-service and digital entertainment restaurant solutions.
In addition to highlighting the ease of incorporating a mobile solution in a casino or resort setting, TabletKiosk will also showcase the Sahara Slate PC i400 series of Tablet PCs running Microsoft's newest operating system, Windows 7 with enhanced touch and inking functionality to promote on-the-go communication. Demos of several of the industry's most innovative applications will be running on the Sahara Slate PC.
The first demonstration features a Sahara Slate PC i440T acting as a mobile terminal for Cantor Gaming's "In-Running" betting application, which enables casino guests to wager on live sporting events before and throughout the event. This solution is currently in use at the M Resort in Henderson, NV, for a variety of sporting events, including NBA Basketball and Major League Baseball.
To encourage improved staff/guest interaction, TabletKiosk will also demonstrate the web-based GoConcierge guest service application on a Sahara Slate PC i440D with handwriting input for entering information on the fly. The GoConcierge application is currently in use at the Bellagio and will also be used in the Mandarin Oriental Hotel at City Center, opening in November.
"As an industry innovator, TabletKiosk is in a unique position to showcase how the Tablet PC platform can improve worker productivity for casino and resort staff," said Martin Smekal, president of TabletKiosk. "Because our company focuses solely on solutions featuring slate-style, touch enabled tablets, we understand both the benefits and challenges that integrating this form factor presents and we work closely with our partners to identify potential issues before they occur."
About TabletKiosk®
TabletKiosk is a registered trademark and wholly owned subsidiary of Sand Dune Ventures, Inc. a privately held technology incubator. The company produces slate-style Tablet PCs, Ultra-Mobile PCs and a mobile clinical assistant (MCA) marketed through an authorized reseller channel and directly through the company website. For more information, visit www.tabletkiosk.com.