Tabletology's TC1100 visits Paris!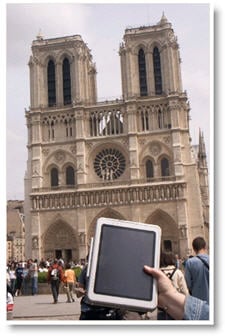 Ah, to be a young Tablet PC in Paris! Well, maybe the quote does not quite fit, but this blog post from Tabletology is a good read anyway.Olga Kits of Tabletology shares about journeying to Paris with her TC1100 tablet:
"In general, Paris is la cite de wifi gratuit – there are always a few people who kindly leave their wireless wide open, so that you can sit in most cafes, parks, squares, and be in touch with the rest of the world without paying. Of course the charm of the local environment does make escape via the internet less necessary than in some settings! The other day I stood on a corner with my tablet, headphones on, someones donated wireless and skyping some friends in Canada"
Check out the whole site, lots of nice pics of Olga and tablet enjoying the sites! As you know, I do enjoy plugging the smallblogs that do a great job talking about their tablet PC's, so please do give them a visit and encourage their efforts!
(via Tabletology.com)