Tablets and Simplicity. A Quest or a Reality?
Perhaps it is because I'm getting older, or rather that I on the side of the mountain where I realize I have less steps ahead of me in life than I have already taken on the journey. Or perhaps it is just because no matter how hard I try, I seem to be busier and busier with each passing day. Regardless, I find myself yearning for simple solutions, simple moments, and simpler times. As the discussion about Tablets and their future continues going round and round the same old circles, the center of gravity that these discussions rotate around all comes back to simplicity. But that's always been the case to some degree. No matter where we entered the mobile game, much of what we've been searching for is a simpler way, whether that be to stay connected, get work done, or just play and relax. Simple may imply easy, but at times to get simple, things have been far too complex.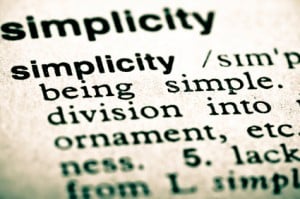 The benefit of hindsight shows that when I first got interested in Tablets it was from within a perspective of finding a simpler way of taking and archiving notes. That was a rationalization for spending a gob of money back then, but with the benefit of 20/20 hindsight it was more true than I thought. When I look back at the words I wrote about those Tablet PC days, that's what I wrote then and that's what they still say. But in the early days of Tablet PCs, while the process of physically taking a note digitally made my life easier, the devices and software that made it so certainly were not. Early Tablet PCs were full blown Windows machines and they came with all the benefits and all the complexities of any Windows device.
I don't think there is a universal definition for simple, just like I don't think there's any way to say one device or solution is the best for all. Getting things done using mobile technology is no different than it was in the age when desktops reigned. It all depends on what you're trying to do and thus it all depends on you. Tablet PCs then and Tablets now provide continuing advances in my search for simplicity of use. While I believe that, I am increasingly of the opinion that the key to using these new devices (and a point some manufacturers miss) isn't about things like the number of Apps, or functionality, or technological advances, or bells and whistles. Instead it is about providing a platform that allows developers to create simpler ways to do things (work and play) that offer a simpler paradigm. Or in the current lingo: a simpler user experience. Again, this is going to be different for each user based on needs and desires, and also based on where any user is coming from in past experiences.
What do I mean by that? Well, as one example, I'll describe my past experiences and context as saying I was wedded to the Microsoft Office way of doing things. My go to Apps in that suite were Word, Excel, OneNote, and Outlook. Microsoft Outlook was, and still is, a powerful tool for communication, PIM functionality, contacts, and indeed getting work done. Like many of the Microsoft Office products its power was that it could provide a range of solutions for a range of users with different needs. This is a strength as well as a weakness of that approach. I know that I probably only used a small percentage of the functionality that Microsoft Outlook provided. The same thing is true of Microsoft Word, Excel, and OneNote. But those products created within me a mindset that I needed all of that functionality available, whether I used that vast array of functionality or not. Beyond email, the most important function I used was calendar management.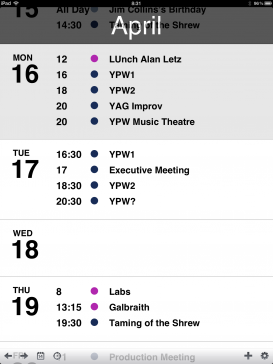 As I moved to the current generation of Tablets (I'm an iPad user) I found myself looking for a similar and familiar amount of functionality. The App that I have been using for some time to manage my various calendars is Pocket Informant. It is a full featured mobile calendar App experience with a lot of power and a lot of potential. It mimicked what I was used used to in my desktop experience and Windows Mobile experience. For a long time I felt very comfortable in that environment, but I have to admit, there were times that I just wanted a simpler way to check my calendar. Recently I found one of those solutions in an iOS App called Agenda. It syncs up with the calendars I need and its user interface is, well, simpler. I've realized as I use it, that it offers me all I truly need at the moment, and to be frank, it makes it simpler for me to manage my calendars. Don't get me wrong, I'm not knocking Pocket Informant. It is a great App and for those who need more functionality than I do, I would highly recommend it. But, at the moment, the simplicity of Agenda has replaced the complexity of Pocket Informant for me.
Another example in my usage is information gathering. For both my work here on GBM and at Wayside Theatre I do a lot of reading and research. Of course the web is where I go for that and one of the go-to tools in that exercise has been Google Reader. Google Reader is still a browser based standard for RSS feeds, but I've moved away from it as well. In fact, Google Reader has become more of just a back end for other solutions that I find simpler to use on a Tablet.
There are a number of feed readers out there, Reeder and Mr. Reader being my two favorites. They are both elegant solutions that offer a better Tablet experience for reading RSS feeds on an iPad (and in the case of Reeder, on a desktop as well.) There is a host of functionality built into both. But even they have taken a backseat to a tool I find myself using more than any other. That tool is Flipboard. I've described Flipboard here often as my morning paper and that's true enough, but it has also become my go-to simple tool for keeping up with feeds and writers I want to follow.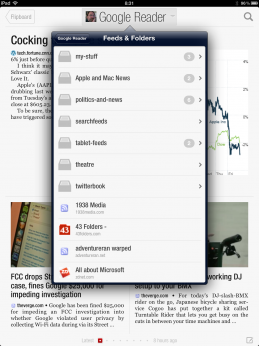 If you've played the RSS game you know that quality often suffers next to the quantity of information that comes pouring in. In the last 18 months or so, most of what you see coming in from various sources is just a repeat of the same information. Flipboard doesn't cure that issue, but it's magazine type format helps me focus in on the sources I'm most interested in. In Flipboard you can import all or portions of your RSS feed list and it is extremely easy to create a Flipboard section for a specific source. This allows me to cut down a good deal of the clutter in my feeds and focus in on the news or information that I find most interesting. It's not a perfectly simple solution, but I find it far more simpler than trying to peruse feeds in a browser these days.
Intriguingly enough, Flipboard on an iPhone is even simpler to use than on a iPad. Setting up a Flipboard account so that I can go back and forth between these two devices is a real plus, put increasingly I find that I enjoy the simplicity on the iPhone more than I do on the iPad.
These are just two examples of how Tablets are simplifying things for me. In the next few days I'm going to be posting several similar simpler solutions I've discovered. These range from how I use the Cloud to entertainment. Let me say this. The headline of this post uses the word "quest." It's not that I'm out looking for simpler solutions. By and large they find me, or we find each other as I test Apps on my mobile platform of choice. A simpler solution doesn't often present itself at first glance, at least in my case. I need to use an App and often find myself weaning myself off of a previous solution, sometimes with great difficulty. The key for me seems to be one that is combining my personal work and play flow with solutions that open up possibilities by not necessarily adding features, but often, by subtracting them. Is that what Tablets and mobile computing is all about? Perhaps, in some cases. Certainly not in all. But in my case it seems to be a recurring theme that is emerging.