Tactus Morphing Display Blends Touchscreen and Physical Buttons (Video)
At CES Tactus displayed its new technology that lets specific areas of touchscreens to rise to give the feel of physical buttons when needed.
Tactus calls it new technology "morphing tactile surface." The tactile display adds a layer of liquid beneath the display that can pool in an area to create raised areas on the display.
The tech demo video shows smartphones and tablet using the screen technology with buttons rising from the screen for keyboards and number pads on both.
Tactus claims the screen technology can fit in devices ranging from smartphones to big TVs, and it doesn't add any thickness to the devices. The company says its display technology is the same thickness as the current screen technology it replaces.
For more CES 2013 coverage, you can visit GottaBeMobile's CES coverage page. 
Tactus also says its screen technology passed a number of durability tests. It's not clear if the screen technology is as durable as other technology like Corning's new Gorilla Glass 3, however.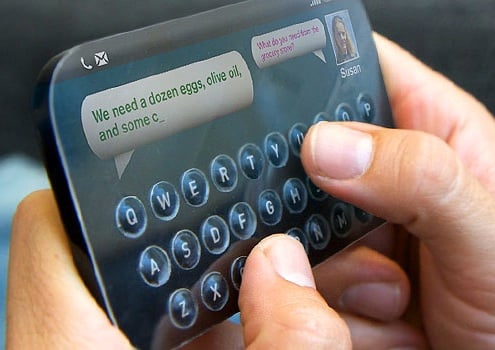 The tactile display technology can work with any number of keyboard layouts, so if the tech comes to Android devices users can easily switch between different keyboards with no problem. Manufacturers can set a number of different layouts for the keyboard, but developers will need to build their third-party keyboards to work with te Tactus display.
On a tablet a technology like Tactus could help users touch-type on their devices without the need for a Bluetooth keyboard. For iPads the closest idea is the Touchfire accessory which fits on top of the iPad display and features raised keys for touch typists to type faster on.
Tactus expects to have phones with its display technology out by the end of 2013, but it's working with manufacturers on getting an exact date. The company hasn't announced any hardware partners, but there's a chance some smartphones will use the technology sometime before the end of the year. For consumers, this means that in order to get Tactus' technology into devices, they'll need to buy a new device with Tactus embedded as this option cannot be added on as an after-market solution.

As an Amazon Associate I earn from qualifying purchases.