Tag Team Video Glance at the WiBrain
WiBrain's are popping up everywhere these days. Kevin Tofel and James Kendrick do a tag team video first look at the WiBrain UMPC. The dual chat is an interesting new approach for looking at a device that the jkOnTheRun team says it will continue. For what it's worth, I vote for WiBrain as is WiFi. You'll have to watch the video to catch that one.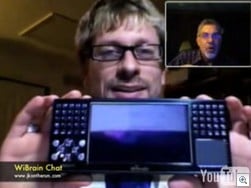 This article may contain affiliate links. Click here for more details.