TAGG the Pet Tracker Gives Your Dog Text, Email and GPS
If you want to know where your dog is, get text alerts when he roams far from home and just have peace of mind that your dog is where he is supposed to be, you should check out TAGG the Pet Tracker.
Qualcomm has built a small cell phone that snaps on to your dog's collar, complete with GPS, that can help you keep track of your best friend.
The small clip on collar accessory will stay in sleep mode when it is within range of the TAGG charger, and when he leaves the house, he will be monitored.
If he stays within the bounds you set, everything is fine. If he runs off down the street, you get an alert. The device connects to the Verizon network, ensuring good coverage.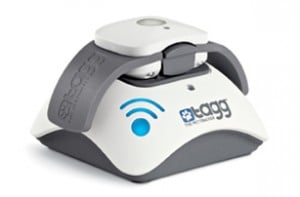 When Fido wanders outside of your boundary, you can get an alert in one of several ways, including;
Text
Email
Website Alert
On an iPhone App
On an Android App
The TAGG the Pet Tracker system is available today in the U.S. only, and is $199 for the collar adapter, base station and one year of service. Additional years of service cost $59.
What do you think? Will you be getting one of these? Or would you rather strap your old iPhone to your dog's paw?