Take an iPhone Fishing, or More, with Hitcase and Suckr Marine Mount
Hitcase, the makers of rugged iPhone cases useful for outdoor sports enthusiasts, will soon add a new mounting system called the SuckR. It mounts the iPhone housed in one of Hitcase's rugged iPhone 4/4S cases. The Hitcase and Suckr mount works with their upcoming iPhone 5 Hitcase, coming in March.
Hitcase designed the SuckR mounting system for marine situations so that fisherman or boaters could use their iPhone while piloting their watercraft. Use the pro version of their case with the video lens and users can capture wide-angle video of the lake as they steer around the water.
The SuckR costs $49.99 from Hitcase and mounts the Hitcase and phone to a smooth flat surface like a windshield or mirror. The suction mechanism will hold it in place even in extremely bumpy high vibration situations, like speeding over waves or along a bumpy backwoods road.
The Hitcase adds a built-in removable wide-angle lens that covers the iPhone camera, giving users a wider picture than they would normally get from a naked iPhone camera. They say it doubles the normal range of the camera. The camera lens comes off for closer photography.
Two ball joints allow the owner to adjust the mount to various angles. People can tailor the SuckR to their vehicle or boat. The whole system turns the phone into a GoPro style camera.
The Hitcase or Hitcase Pro that fits in the Suckr will keep the iPhone dry in marine settings and safe if it gets dropped or hit. Combined, the two pieces turn the iPhone into an action sports camera useful in any kind of vehicle one could imagine driving or riding. All they need is a smooth surface to attach to.
The free Hitcase Videometer app records video and takes pictures while adding details like speed, latitude and G-force on top of the images. This makes it easy to brag about how fast, high or wild your ride was.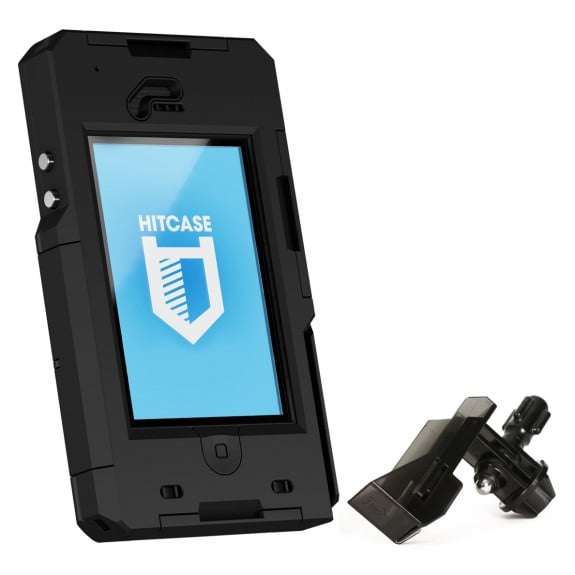 Get an iPhone 4/4s Hitcase now without the lens for $89.99 at Hitcase's website. The Hitcase Pro costs another $40 and fits the iPhone 4/4S adding a wide-angle lens. A version for the iPhone 5 will show up in March.
In addition to this new SuckR mount, Hitcase makes the StickR mount that adheres to any surface with a small base and costs only $24.99. Attach it to a helmet for biking or kayaking.
The ChestR mount works like a harness that fits on a chest and holds the mount with the Hitcase or Hitcase Pro on a person's body. This makes it possible to take point-of-view videos or pictures. It costs $49.99 from Hitcase.

As an Amazon Associate I earn from qualifying purchases.