Take Sneaky Photos in iOS 7 with This Neat Trick, No App Required
Whether you're wanting to take a photo during a concert or at an art gallery, a lot of places prohibit people from taking photos and video, which can be a bummer, especially if you wanted to share that moment with friends and family who can't be there. There are plenty of apps out there that allow users to take photos without the camera viewfinder showing, but this neat trick in iOS 7 makes all of these apps obsolete.
Reddit user KidSavage discovered a clever way to have the Camera app open on your iPhone, but have it hidden behind the app switcher and the notification tray. It works on both the iPhone and iPad, although it didn't work on the third-generation iPad.
All you have to do is open up the Camera app and immediately after doing that, double-tap on the Home button to open up the app switcher. You should see the Camera app in the app switcher still live and the viewfinder still working. Word of warning, though: it didn't work for everyone here at GottaBeMobile. Doing this led to a random reboot for some people, but it works perfectly for me every time.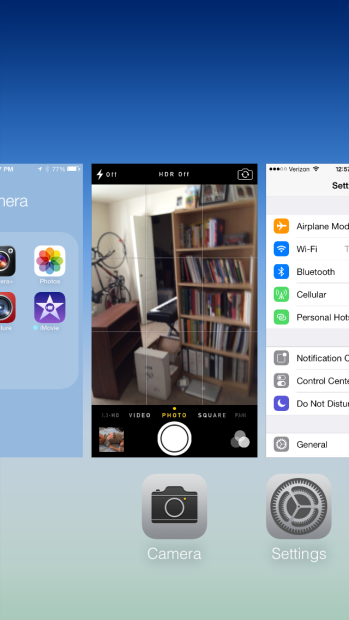 After opening the Camera app and double-tapping the Home button, you can access the notification tray from the app switcher by swiping down from the top of the screen. This completely hides the Camera app while still keeping it open and ready to take pictures. To simply take a photo, press the Volume Up button (since the shutter button is hidden, obviously).
With that, people that are looking over your shoulder will simply think that you're looking over your notifications, when you're actually taking pictures without anyone noticing. Of course, you're on your own as far as the risk you take when you do this. If you're in an art gallery and simply pull out your phone, security may just assume that you're going to take a photo, so you might have to be sneaky when simply using your phone in a restricted area.
This trick is most likely just a bug in iOS 7, and unlike other bugs that have been discovered in the past, this one doesn't leave private information out in the open, so we're not sure how high of a priority it will be for Apple to fix, but in the meantime, you can use it at your will whenever you need to snap a photo without anyone knowing.

This article may contain affiliate links. Click here for more details.