Take the enTourage eDGe for a Spin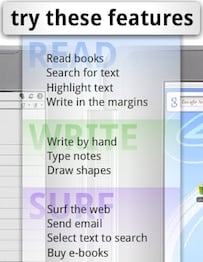 You've seen our coverage of the forthcoming enTourage eDGe which includes Sumocat's impressions, but you want to know a little bit more.  It's called gadget obsession, and you've likely got it if you frequent GottaBeMobile.  Good thing the folks at enTourage have come to our rescue and provided a neat little demo of what the eDGe has to offer.  There's not much new, but it does whet the appetite.
Of particular interest is the inking-capable, eBook screen.  Use of the pen allows highlighting of text, writing in the margins of eBooks, and the creation/sharing of journal notes.  Full specs, additional details and a plethora of pictures are available directly from enTourage.  I look forward to seeing this thing in action first-hand and how it may stack up against the iPad.
Click here for the demo which is available in two fabulous sizes: small and large.

This article may contain affiliate links. Click here for more details.