Takeaways from the GBM Reader Meetup in Colorado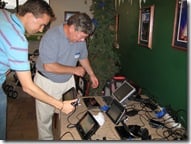 There were many takeways from the GBM Reader Meetup in Colorado. There was some great and wonderful sharing of insights, likes, and dislikes on particular Tablet PCs and UMPCs. There were the spontaneous demonstrations by Andrew Ferguson (OneNote on the M200) and Mike Moore (the NEC VERSA Tablet PC). There was a great conversation at the end of the evening after most folks had headed home.
The most important takeaway from the evening in my opinion should be obvious though. Folks are dying to get their hands on Tablet PCs and UMPCs and try before buying. When they compare one to another it is almost like ascending to some sort of Geek Nirvana. Watching folks come in to the Meetup and after a quick introduction (in most cases) and then head right to the tables to start picking up the gear was a sight to behold.
OEMs and Microsoft should pay attention. Your potential customers are out there and want to touch and see the merchandise for themselves. I note with interest that they can do so with that Apple MID that Rob showed off.
This is a quick video of all the Tablet PCs and UMPCs we had available as well as some of the swag that was generously donated by OEMs, ISVs, and Microsoft.

This article may contain affiliate links. Click here for more details.