Taking the Lenovo Thinkpad X60 Tablet PC For A Spin
I've been a bit absent from the site for the last week or so because of work concerns in my real life as a theatre producer and director. During that time I've been using the Lenovo Thinkpad X60 as my main machine throughout rehearsals and also while we prepared for a ground breaking ceremony for Wayside Theatre's new capital expansion. I've chronicled before how I use a Tablet PC in my creative and management process (here, here, here, and here) so I won't go into great detail on the process. This effort was about adapting to a new Tablet PC, and finding out if the X60 was really the next Tablet PC for me or not. Since the launch of the X60 (Configure to order begins today, November 28) and GBM's coverage of it, we've received, oh, about three and half million questions on the X60s that Dennis and I are working with. While I'm sure I won't touch on all 3.5 million, hopefully this will answer some that have been asked. Note that I used XPS2 on the X60 for the duration. I am also using Microsoft Office 2007 and OneNote 2007 RTM.
Battery Life: One of the things I was most anxious to check out was battery life. With my Toshiba M200 I would alternate two batteries and in an 8 hour rehearsal day I could usually get through using both batteries. Although as they have aged, that began to be problematic. With the X60 engineering sample I am using, I have the 8–cell battery which is rated as having a battery life of up to 7.5 hours. Of course to get that kind of life you need to make some profile adjustments and not run everything quite at full. In rehearsal many times I am sitting in a darkened theatre taking notes. Turning off WiFi (Bluetooth was also turned off) and dimming the screen all the way down, I was able to get a report of 9 hours of battery life, which is quite an amazing statistic. Now, I did not run the X60 straight through for 9 hours, so I have no way of knowing if that is accurate in that setting. But I was able to use it on one battery with a full charge through an 8 hour rehearsal day, plus a couple of hours of work before hand. Now before the mathematicians start counting up things, there are periods in rehearsal when I would have the X60 in suspend or sleep mode, and also rehearsal breaks. The end result here is simple. A fully charged 8 cell battery can get me through a long day without an issue.
Inking: This is without a question one of the best inking experiences I have had with a Tablet PC. The pen moves smoothly over the screen and lays the ink down exactly as one would expect. An exceptional experience. Using the scratch out gesture or the eraser on the pen is also equally nice.
The Screen: A number of GBM forum readers have asked about the screen in terms of viewing angle and how it works under fluorescent light. The viewing angle is superb and I have no issue there. Our costume shop has fluorescent lighting and there were no issues working with the screen in that environment (that is where we hold our production meetings.) More importantly in my usage, I am frequently giving notes from the stage with stage lights on. With the screen dimmed all the way, it is indeed tough to see the screen, but adjusting the brightness upwards made it imminently readable under stage lighting. This is a vast improvement over the Toshiba M200. Although I do not have an indoor/outdoor viewable screen on the X60 I am working with, I find that it is much easier to read the screen outdoors than than the M200. That's not something you are going to want to do in bright sunlight, but in a car, it is usable if you need it to be.
Lenovo Utilities: There are a number of ways to access certain utility functions, such as dimming the screen, muting the sound, turning off wireless, etc… Using the Toolbox hardware button to access these utilities at the moment is my preferred method of doing so, and I find it quite handy. This button is located on the screen and is easy to access while in portrait mode. That said, given the rich black color of the case and the same color for the button, I wish there was some way to make this and the other hardware buttons stand out. The tiny logos for the buttons are all but unreadable in a darkened situation, and also when I have the X60 open on my desktop or lapdesk, unless there is light behind me.
Suspending and Waking Back Up: Waking up from suspend mode would average 10 to 12 seconds before I was ready to ink again. This is important to how I work and is a considerable improvement over the M200. It certainly isn't instant on, but it gets closer. I'm anxious to see how this works with Vista, as I see a significant improvement under Vista with the M200. I really like being able to wake the X60 up by simply removing the pen from the garage. This is a neat feature and works very well for me.
Speed and processing power: The apps I'm mostly using are OneNote 2007 and Microsoft Office 2007 (no small 's' here.) There has been some consternation expressed about Lenovo not releasing a Core 2 Duo X60 Tablet PC so far. I don't find that to be an issue given the applications I am using. Everything was speedy and responsive and compared to the 1.5mhz Toshiba M200 (with 1gig of memory and a 7200rpm HD) quite an improvement. (This engineering sample X60's processor is rated as 1.66mhz and this unit has 1gig of memory and a 7200rpm HD.) Of course that is to be expected.
The acclerormeter and active rotation: The active rotation that enables the screen to rotate depending on which orientation you are holding the device is a nifty feature but in my work flow it is not for me. It is fine when I am sitting still, which I don't do all that often. I am frequently moving around the theatre checking sight lines and audibility. When I am giving notes to a cast I am moving quite a bit. Having the screen rotate unintentionally when I am moving got to be an inconvenience, so I deactivated the feature. I would think that if you're more stationary than I am, this would not be an issue. Of course using the rotation hardware button makes rotation easy to do if you disable active rotation.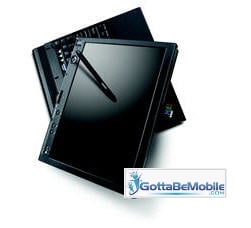 Handling: When we first started seeing Tablet PCs with extended batteries that protruded from the frame of the device I have to admit I was a bit skeptical of that design or form factor, thinking it would interfere with my handling of the Tablet PC. That is not the case. In fact, the balance with the 8–cell battery installed feels very natural. I must be an odd duck (save the comments, I know I'm odd in many ways) but I prefer the battery on the left hand side of the device in portrait or slate mode. this puts the screen in secondary portrait mode. I felt the same way about the Toshiba M200, keeping the slight curvature of the form factor on the left as well. This makes it a bit more difficult to use the Nav Dial to scroll the screen, but that is an adjustment I'm willing to make for my preference. Not once did I feel the X60 was too heavy or too large to be toting around.
The Pen: This is a real quandary for me. Although the pen is very comfortable to work with and hold, I'm just not a fan of the button. It has proven too difficult for me to find and use effectively and my constant fumbling with it leaves me frustrated. I would use the Cross Pen that I have and love, but that keeps me from using the return from suspend feature I like so much. A real quandary, but certainly not a show stopper.
The Intangibles: This is tough to describe really other than to say that holding and working with the X60 just feels right. The inking experience is excellent, yes, but just picking up and carrying the device feels right. There is not a second thought about it. Just grab and go. Another intangible, very seldom when I am in rehearsal do I flip the screen around to use the keyboard. But, on that rare occasion, the X60 feels very comfortable to use in my lap. That said, I'm finding myself having to really adjust to the track stick or thumb stick or the wart, as Dennis calls it. I've never been a fan but, I'm slowly getting accustomed to it. I have a feeling I'll be going to a bluetooth mouse when I'm using the X60 at my desk, an accessory I was perfectly comfortable without on the Toshiba M200. Interestingly enough I find it easier to use with the X60 on my lap more so than on my desk or lapdesk.
The Verdict: So, is the Lenovo Thinkpad X60 Tablet PC my next Tablet PC? The answer is yes. It works and works very, very well for everything I need it to do in my day to day life at the theatre. These last 10 days or so have been quite hectic at work, and the X60 never let me down once. In fact, I found myself being more productive with it than I ever was with my venerable Toshiba M200. (Remember I was and am quite a fan of the M200, legacy device that it is about to become.) Now that I'm through the most hectic part of a crazy schedule, I'm looking forward to trying Vista on the X60 (thanks Dennis for being the trailblazer on that one.)
I hope this is helpful to some who are considering the X60. Leave comments or questions. I'll be happy to answer them. Just remember, choosing a Tablet PC is a very personal choice, and my experiences in the theatre just might be quite different from yours. That said, Lenovo has once again set the standard for convertible Tablet PCs in my opinion.
Check out the GBM Inkshows on the Lenovo X60
And check out the Lenovo Thinkpad X60 Tablet PC site.

As an Amazon Associate I earn from qualifying purchases.