Taking the OneCare Plunge …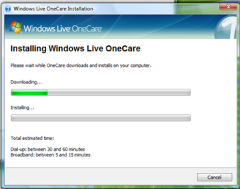 As you can see from the image here, I am installing Windows Live OneCare. I have heard a lot of bad things so far about the previous versions, mostly complaining about performance.
As a mobile user, I need good protection for my computer. I never know where I will be connecting next, and in fact during my normal workday I may attach to four or five different networks, sometimes not totally aware of how seriously they take virus, spyware, etc. protection. My protection product has to be good, but not interfere with my day to day activities. I also like the idea of an all in one product — less to mess with!
For this experiment I am installing it on a desktop I use in my office for accounting, video production, etc. It is running on a pretty good AMD processor with plenty of memory running Windows Vista Ultimate RTM, so I will see if it affects performance. If this is successful I may move on to my Tablet PC with it, but not until I know more. One thing I already noted is that it turned Windows Defender off immediately, which makes sense — there is some redundancy there.
I am installing the 1.5 beta version on OneCare, so I hope this is a stable build with the kinks pretty well worked out, but I will let you know after I have had a chance to put it through its paces.

As an Amazon Associate I earn from qualifying purchases.