Talkatone: Great iPhone App Offers Free Calling
Phoning home can be an expensive proposition when traveling overseas. Fortunately there are ways to work around this problem. Talkatone is an iPhone app that makes it possible to place and receive free calls over WiFi from anywhere using a Google Voice account.
I'm currently in Berlin and am trying my best to avoid paying International roaming charges, which can really add up. Even though I signed up for AT&T's World Traveler plan for $5.99 per month, calls still costs $.99 per minute.  I've placed and received a few calls via Vodafone's network, but I'm not willing to pay several dollars every time I need to have a real conversation.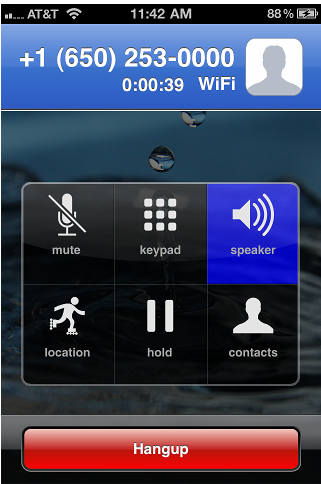 I installed Talkatone to help ease the pain. Talkatone is extremely simple to use and setup. After connecting to my hotel's Internet service via WiFi I was able to call my family in San Francisco and a business contact in New York.  I have WiFi access most of the time at the conference I'm attending, which means I can use Talkatone all I want.
Talkatone can work over 3G networks as well, but using Vodafone's 3G network is a very expensive proposition.
Call quality depends on the quality of your Internet connection. At the Marriott hotel in Berlin I have a solid connection, but at IFA 2011 the network is overloaded by a bunch of geeks who are blogging and uploading multimedia files. This means I can't hear people clearly all the time.
Receiving text and multimedia messages while roaming internationally is free, assuming you have a MMS plan from AT&T, which is fantastic. Instead of replying directly via the iPhone's built-in messages app, I've been replying through Talkatone.
Talkatone can save you money even when you're in your home calling area since it allows you to place calls without burning through minutes. The app would also be useful for those who live or work in areas with poor cellular coverage.
Talkatone also works on the iPod Touch and iPad.

As an Amazon Associate I earn from qualifying purchases.