Taposé: Microsoft Courier for the iPad?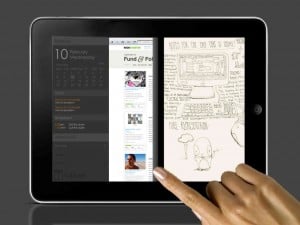 Yesterday in the post highlighting Jay Greene's articles on how Microsoft killed the Courier Tablet, I mentioned Taposé. Taposé is a forthcoming App for the iPad that is supposed to provide Courier like functionality.
It kicked off as a Kickstarter project, got funding through that method, and is scheduled to debut around Thanksgiving.
Obviously I'm anxious to see how this pans out. Here are some of the features we're supposed to see:
Split Interface Design:
Drag and drop from Safari
Drag addresses to Maps for directions
Drag contacts over collections to share
Finish calculations without leaving Tapose
Full screen capabilities
& much much more
Middle Separation Bar:
Place images, sticky notes, maps, and more into the middle separation bar which acts as a temporary holder
Allows easy organization and movement between pages and collections
Slide to adjust the view sizes
Collections/Books:
Creating a book in Taposé couldn't be easier. Taposé's design draws users in as it appears as a physical book, and accommodates everything a user could need.  It will provide functions such as font formatting, free draw, eraser, highlighter, sticky notes, image insert, list creation, and many more.  Users have the ability to do anything and everything quickly and creatively.

And it also looks like these guys have a sense of humor based on this video.