Review: Taposé Not Ready for Prime Time
Talk about disappointing. Yesterday those who had been following the news about the Microsoft Courier-like iPad, Taposé, were excited to see, that after several rejections, Apple had approved the App. There were quite a few eager beavers itching for the download, myself included. Well, as it turns out Taposé is still an exciting concept, but in my testing the execution proves that Version 1 Apps often leave a lot to be desired. As a matter of fact, based on what I'm seeing in my usage, and in threads on the Taposé forums, it might be a stretch to call this Version 1.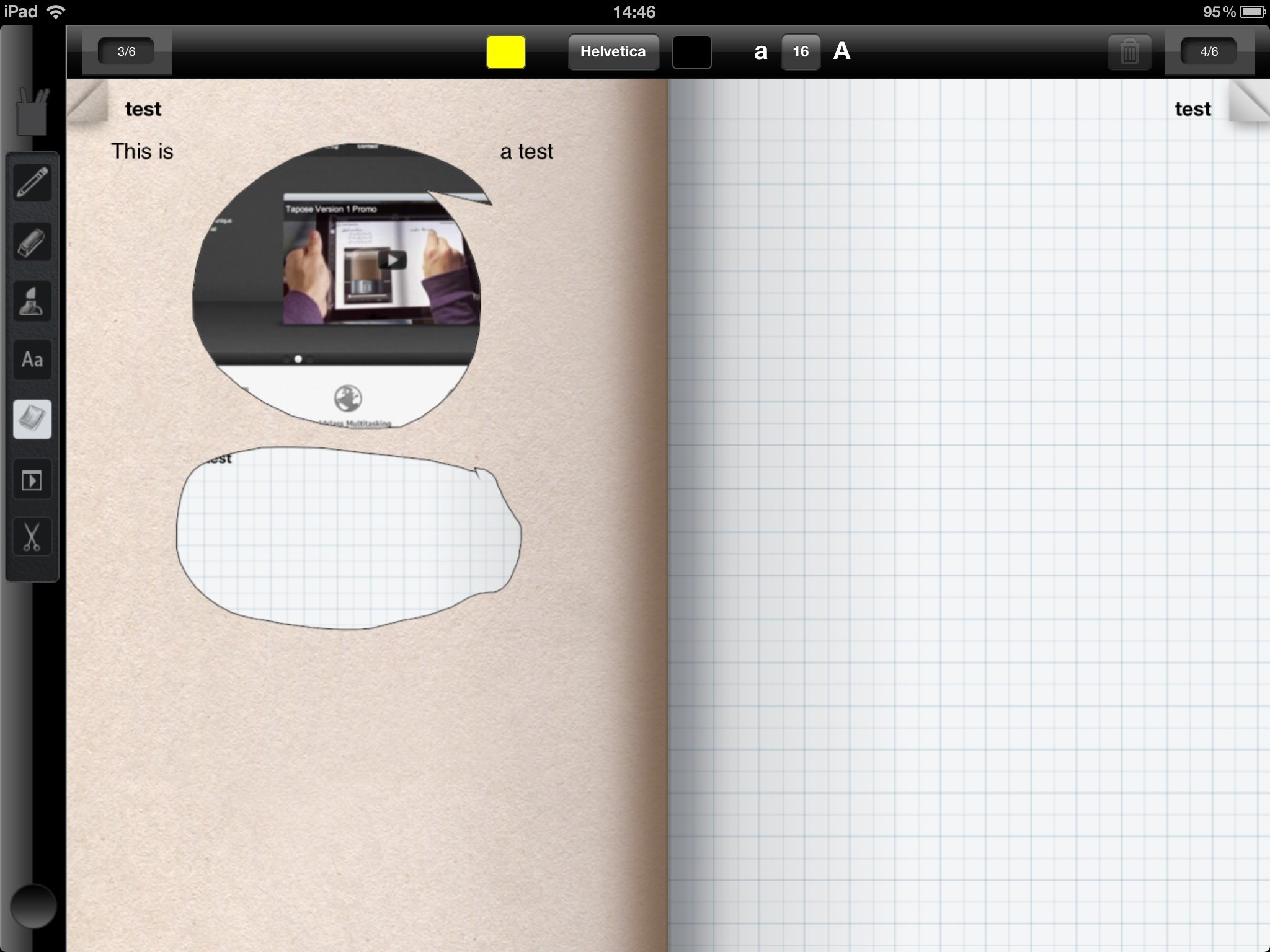 Taposé promises to give you dual pane view into your work. The concept makes great sense for those who want to create in one pane while having information in the next. The theory is that you can grab information from one pane and move it to another. Note, that I said the theory. This doesn't always work as advertised. Digital Inkers have been excited about the possibility for this App as well, but they will also be disappointed. The Inking just doesn't live up to the standards set by other Ink note taking Apps for the iPad on the market. (And remember even the best of these pale in comparison to Digital Inking on a real Tablet PC.) In fact, it is down right lousy in comparison.
So, let's take a look at some of the functionality of Taposé.
First and foremost you need to think of this as a landscape App. While you can view things in portrait mode, switching between panes is a more than a chore. It can leave you dizzy, sliding the Control Bar back and forth to be able to turn a Journal page. In fact page turns in both landscape or portrait are not that intuitive and often confusing, much less unresponsive to touch at times. The developers don't quite seem to have the knack for developing intuitive controls for iOS. We're so used to just swiping side to side to turn pages in iOS that the steps needed here seem immature at best. It reminds me of poor touch responsiveness on Android Tablets at worst.
That Control Bar contains buttons for choosing Inking, highlighting, text, inserting a re-sizable sticky note, an eraser tool, or a snipping tool that allows you to cut areas from the screen. At the bottom of that control bar is a circular control. Tapping on it brings up a pane containing the journals you have created. Sliding it side to side allows you to open or switch between panes. If you slide this control up you then reveal a collection of Apps that include Journals, a browser, Maps, Contacts, and a Calculator.
If you choose to open one of these Apps you are given a choice of which pane to open them in, either the left or the right. Annoyingly, you need to make this App tray descend before you can get to the top of the Apps screen to enter a url or read the full result of a calculation. if you were to choose the browser. Or if you were to open a Journal you don't have access to the page flip controls at the top of the screen, unless this App Tray is out of the way.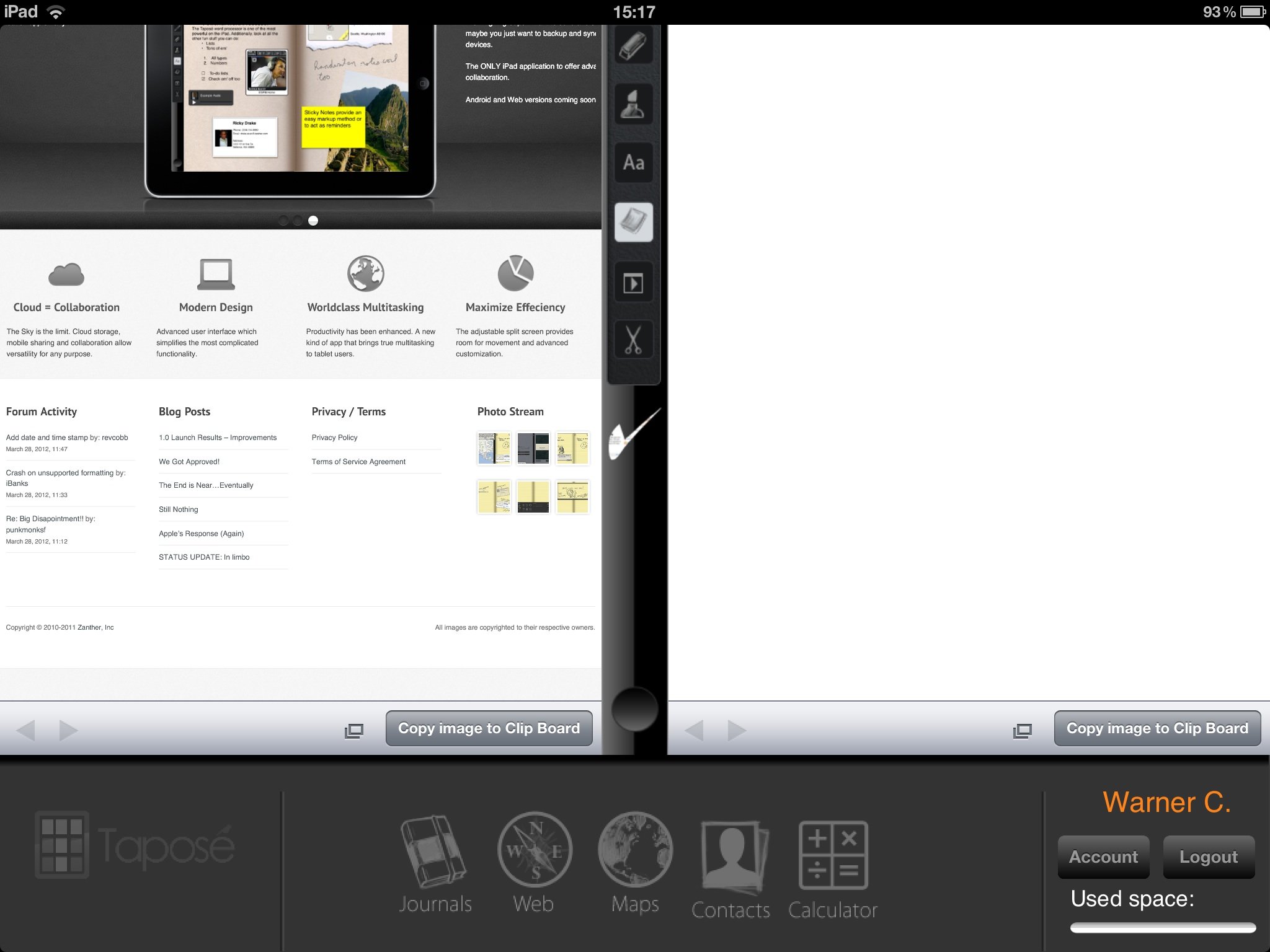 Also annoying, if you open a Journal in one pane and another App, (Contacts for example) in the other pane, you can't turn pages in the Journal without first sliding the Control bar (now in the center of the two screens) all the way to the left or the right to reveal the dog-earred turn control in Journal in both panes. This is not only counter intuitive, it is tedious.
Note also that there is no control to close out of any of these Apps. The theory here, I assume, is that you slide the Control Bar left or right, or up or down, to choose what you want to do next. All well and good in theory, but if I have multiple Apps open, it appears I have to reopen the Journal I was working in again, by choosing a left or right pane for it before I can get back to work.
The clipping tool mostly works as advertised. Draw a circle, or whatever shape, around what you wish to cut, and that data then moves to the Control bar. Drag it to another page and it pastes it there.  Curiously enough it doesn't capture Digital Ink with this method. If you open up the Contacts App you can drag a business card of the contact to a page.
You can insert photos or videos that you've already taken or take them from the App, although I notice with some photos, the quality suffers if you have to re-size once you've pasted them in.
The sticky note function is there to allow you to create a note, (text only-no Ink). There's an obvious bug here. Once you've inserted a sticky, if you tap anywhere else on the page, you'll just keep inserting sticky notes until you select another tool. I've found no way to delete these extra notes other than to find and hit the undo feature, which is located under the page number control at the top of the screen. In fact, there seems to be a lack of context sensitive touch controls throughout the App.
Taposé hosts a number of other features including voice recording, inserting photos or video, arranging text in a number of ways, a few fonts to choose from. You can choose to share Journals with others (and yes there's a service that you can subscribe to for $29.99 a month to store your stuff if you wish to.) In this version is host to a number of bugs that will send the App crashing away. For those who are interested, the App is not Retina ready.
The Taposé developers are very excited for the moment and promise all kinds of new things and bug fixes for Version 2. That's all well and good.
In my opinion before they start adding new things, they need to focus on the bugs and the user experience to tighten it down considerably if they want Taposé to have a future. As it is, this is a poor first impression.