Target Cuts Prices of iPhone 4S and iPhone 4
While last week's iPhone 4S and iPhone 4 price cut at Walmart turned out to be little more than a mistake, it appears that a price cut on the iPhone 4S and the iPhone 4 at Target is the real deal.
9to5Mac has acquired some evidence that shows that at least some Target stores are currently offering deals on both the iPhone 4S and the iPhone 4 with both phones receiving a $50 drop in price.
It appears that the price drops are for all carriers which include AT&T, Sprint and Verizon.
Read: iPhone 4S Review.
There are a few caveats to be aware of before jumping on the deal. First, this is not available online. Instead, it appears that this deal is in-store only. So, don't bother going to Target's website because the deal won't be found there.
Second, it appears that the deal is a limited time offer. It appears that it kicked off on May 4th and it will apparently last through June 30th. Another photo appears to show that it will end earlier on May 12th.
What this means is that it might be available in select locations and those locations may have differing offers. The prices should remain the same though. So, before going out to Target, it's probably worth putting in a call to the local store to make sure that the offer is available.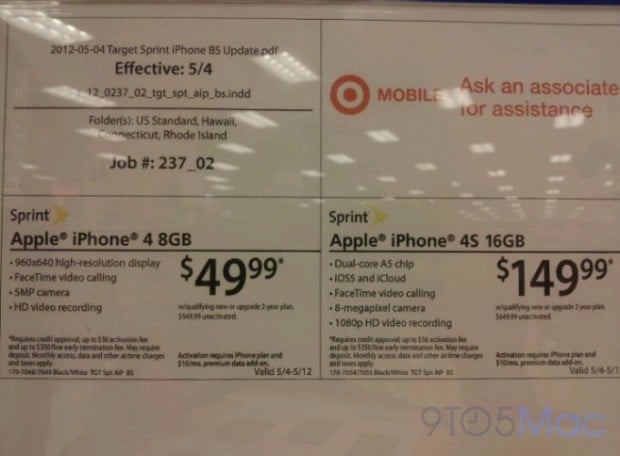 This is a discount over the prices that the carriers and Apple ask for both the iPhone 4S and iPhone 4. The iPhone 4S is generally $199.99 on-contract for the 16GB model while the iPhone 4 has been priced at $99 on-contract since the arrival of the iPhone 4S last October.
Both phones have sold very well on their respective carriers with AT&T and Verizon both reporting the iPhone as their top selling smartphone in their last fiscal quarters.

This article may contain affiliate links. Click here for more details.