Targus 3-in-1 Stylus is an Awesome Pointer and Pen
The Targus 3-in-1 Stylus disproves the notion that multifunction devices don't do any one thing well.
The Targus 3-in-1 Stylus is a capacitive touch screen stylus, a quality fine-tip ball-point pen and a laser pointer. The stylus does all of these activities well.
Drawing in the new Paper app, writing notes instead of typing in an app like Notability ($.99) or Phatpad, and pointing while using your iPad with tools like OnLive Desktop or LogMeIn to control a computer all work better with a stylus.
PROS:

Excellent weight and balance
Writes smoothly
Feels good in your hands
Includes a laser pointer
Cap fits on opposite end when writing with pen

CONS:

Too thick for my Targus case stylus loop
Shirt pocket clasp too tight to fit over thicker material
The Benefits of a Multifunction Tool
I'm always looking for the perfect stylus. I want a precision drawing and writing tool for the iPad. I also really enjoy having an old-fashioned ball-point pen built into my pointing device. Adding a laser pointer for teaching with presentation apps like Keynote or for annoying people by putting red dots on their foreheads makes this Targus tool awesome, better than my previous favorite from Griffin.
What's Great
The Targus 3-in-1 Stylus comes with some heft. Most styli I've used are too light. I like a substantial tool, especially when I'm writing on paper with the ink pen. Executive style pens weigh more and offer a perfect balance. You get that with the Targus 3-in-1 stylus, despite the low cost.
The Targus costs a little more than some styli, but as an executive quality pen its inexpensive at only $39.99 directly from the company or from Best Buy, where I bought mine. I wish I'd waited and ordered it from Amazon for only $31.25.
You feel like your writing or pointing with a top-of-the-line pen you might get as a graduation gift from that rich uncle who doesn't really know you very well.
No Compromises With the Other Functions
You can take the cap off the ink pen and put it over the end with the laser pointer. You wouldn't think that wouldn't be a big deal, but I've used two other styli with built-in pens that don't let you fasten the cap to the other end.
The pen writes on paper smoothly. You get a free replacement cartridge and it takes standard D1 pen refills. It's a great pen.
I don't use laser pointers a lot, but while I taught my class on Tuesdays, I used it and enjoyed the option. The laser's bright enough to see on an image projected onto a wall. I could even see it while I aimed it at my TV.
Twist off the laser pointer and insert the three included button-style batteries. I'm not sure how long they last since I've only used the laser pointer sparingly.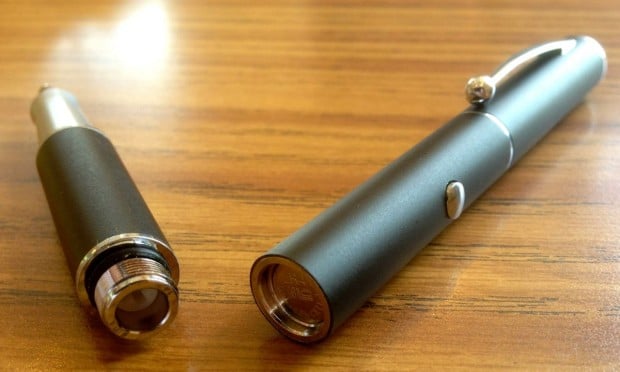 Minor Complaints
The stylus barely fits my new favorite iPad case for the new iPad 3rd gen, also from Targus, which has a loop for a stylus. The Targus 3-in-1 Stylus is thicker than most styli, so I have to work to insert it into the loop. The clip that holds it in the loop or a shirt pocket clasps tightly, almost too tightly. I have to pull it back to slide it clip over thicker fabric.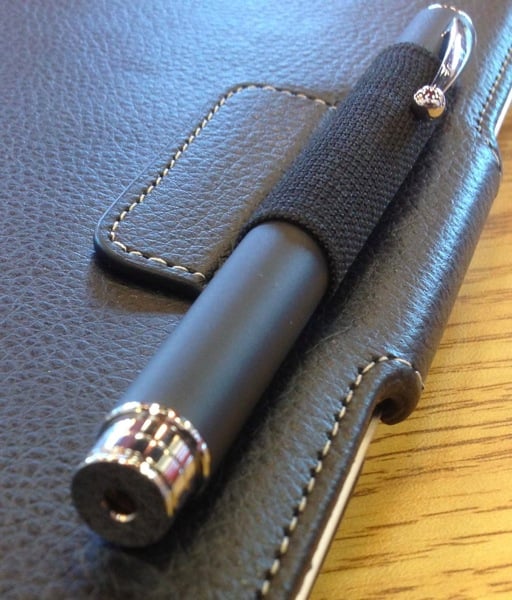 The rubber stylus nub looks like almost every other iPad or touch stylus you've seen. That means it feels more like you're writing with a marker than a pen, but I've gotten used to this. The only stylus I've used that attempted to mimic a fine tip pen is the Dagi, which I hated.
Recommendation
I love this pen and recommend it wholeheartedly to anyone who wants a multi-function stylus with some heft. If you like the feather light styli that most use, you'll hate this one. If you like the feel of a high-quality pen while inking on your iPad or other touch devices, you'll love it.

This article may contain affiliate links. Click here for more details.