tc1100 a Good Netbook Alternative?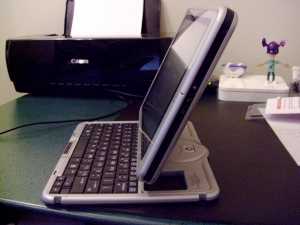 James from jkOnTheRun has been blogging about reviving his HP Compaq tc1100 convertible tablet. There's no doubt that netbook prices are appealing, but computer buyers on a budget should broaden their horizons and consider older, used and refurbished devices.
James wrote:
My recent project to reincorporate the old but capable HP tc1100 Tablet PC back into my daily rotation has convinced me that these are viable alternatives to the netbook for some folks.
I can completely understand why James is putting it back into his mobile computing mix.The tc1100 was the first Tablet PC I ever used and I really liked its detachable keyboard and custom leather case. It was way ahead of its time.
There are plenty of used tc1100 tablets on eBay for about the same cost as a netbook. Since the tc1100 was released so long ago, be prepared to purchase a new battery and spend a few bucks on upgrades.
If you're considering a netbook just because they're cheap you should explore your options. Try searching eBay and craigslist for an older computer that you lusted after, but never bought. Look at OEM's outlet stores for previous-generation tablets that are often priced at a fraction of their original MSRP.
When my wife told me she wanted a MacBook I resisted because of their relatively high price points and because her primary computer was less than six months old. But I happily forked over $325 for a year-old MacBook when a lady at the Apple store was trying to recoup the cost of her new uni-body Macbook.
Would you buy a tc110 or another used tablet instead of a netbook? What about a used 12-inch or 13-inch notebook?
via jkOnTheRun

This article may contain affiliate links. Click here for more details.