Teen's Last Text Released to Demonstrate Distracted Driving Dangers
The City of Greeley, Colorado along with the family of Alexander Heit released an image of the last words texted by Alexander on his iPhone before he was fatally killed in a motor vehicle accident. He was texting while driving, and didn't realize that he had drifted into the on-coming lane. When he looked up and realized that he was in the wrong lane, he over-corrected and went off the road. He was transported to a local hospital where he was pronounced dead.
Luckily nobody else was injured or killed in the accident, and Heit's family want to make sure that someone like this does not happen to anyone else. They have published a picture of Heit's phone, and the message he was about to send before he lost control of the vehicle. The point of releasing the image is to show that that conversation was not more important than his own life.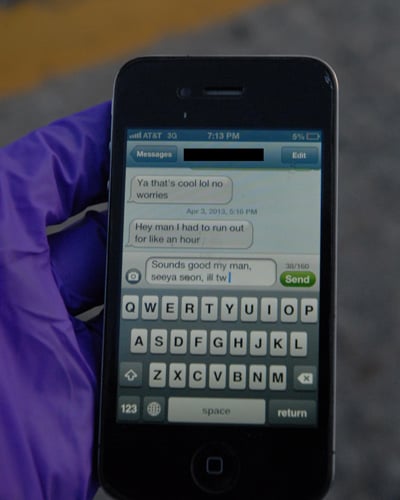 We have recently covered in detail the dangers of distracted driving, and how manufacturers are providing ways to avoid it. BMW provides app and phone control through its iDrive interface. Siri Eyes Free is available in Europe as well as on Chevrolet vehicles. Eyes Free is also available on some aftermarket accessories. Samsung's Galaxy S4 will feature an entirely new S Voice Drive to assist with preventing distracted driving. Ford also allows you to pair your phone to most vehicles for Bluetooth control of functions.
Despite all of the available accessories, studies indicate that people still drive distracted even if they know the risks of doing so! Laws have also been passed in many states banning the use of cell phones while driving, except when paired to a hands-free setup. If people still continue to drive distracted, laws may become more strict and products like this cell phone interlock may be used to help enforce them.
Distracted driving is dangerous. Please pull over to the side of the road to use your phone, utilize a hands free system, or keep your phone stored away until you have arrived at your destination.

As an Amazon Associate I earn from qualifying purchases.