Tegatech unveils the TEGA v2 Tablet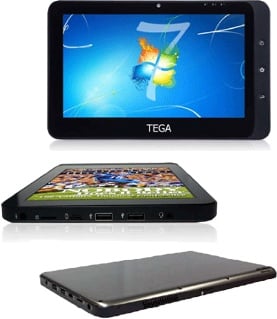 Friend and former GBMer Hugo Ortega is showing off the follow-up to Tegatech's sold-out TEGA Tablet, the TEGA v2. Like the first one, it's a slate running Windows 7, and it's packing some impressive muscle. No surprise given Hugo's long history with Tablet PCs and UMPCs.
The TEGA v2 is impressively thin. With dimensions of 243(L) x 190(W) x 14(H)mm, it doesn't look thick enough to support two USB ports stacked on top of each other, but it does include two positioned next to each other. At 870 grams, it's just shy of 2lbs, more than an iPad but plenty light for its 10.1″ screen.
The display is multi-touch capacitive with accelerometer for automatic screen rotation, so I'd look at the TEGA v2 more as a big UMPC than a small pen-centric Tablet PC. The processor is Intel Atom N455 with support for up to 4GB of memory. SSD options include 16, 32, and  64GB with expansion via SD/SDHC up to 32GB. Wi-Fi and Bluetooth are included with options for 3G, Wimax, and Wibro. Battery life is advertised as more than four hours.
Release is scheduled for September. No pricing yet, but it is described as being "aggressively priced". The sizing on this thing is really impressive, less than half the weight and volume of my first Tablet PC with the same screen diagonal. Looking forward to seeing what this thing can do with 4GB of ram and SSD.