TeleNav's HTML5 GPS Solution Breaks Free of App Store Shackles
TeleNav, which had been creating apps for various platforms to leverage its GPS navigation solution, is now creating a platform-agnostic solution by turning to the mobile browser. With its new web app, TeleNav is porting its voice guided turn-by-turn GPS navigation solution to HTML 5 rather than relying on apps for different platforms.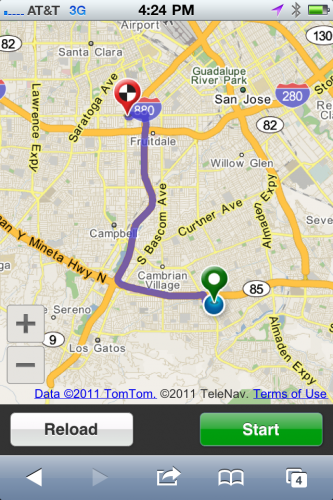 By turning to HTML 5, TeleNav will be breaking free of the shackles of app stores. Whether this is the right time to do it is still too early to tell as native apps offer a better UI with more skinning and an easier way to interact with content. When Apple had initially conceived of apps, it had turned to web apps, but that solution was poorly received by developers and consumers. The company subsequently and quickly built an SDK to allow for native apps.
As HTML 5 and the web matures, the problems with native apps become more apparent as the information and content contained within individual apps are separated from other apps. For instance, what's inside your dictionary app is only accessible within that app. If you're reading an e-book, for instance, and need to look up a definition, you can't quickly hotlink the word and definition from that particular dictionary app unless the e-reader app you're using has built-in dictionary capabilities. When you're building services, curating and creating content, and developing ecosystems in apps, there's no way for other apps to tap into that content unless there is direct cooperation between the different developers. For instance, clicking on a Facebook link now on many Android phones opens up the mobile Facebook page in a web browser, rather than the native Facebook app, which can be quite annoying when a user expects one thing but the results reflect another thing.
By turning to the web, TeleNav will help to free its apps from those problems. TeleNav will also allow other developers to add a single line of code that would link their content with TeleNav's browser-based HTML 5 solution.
This is an enormous amount of added value for any mobile, location-based website or app focused on travel, shopping, local search, deals and more. With one line of code, you can give your customers one-click access to premium, voice-guided turn-by-turn directions to any location, including hotels, restaurants, merchants or deal locations. Customers never need to leave your app.
While the web app itself may appear simple, I think it's a large jump to be able to not only deliver voice-guided turn-by-turn instructions from within a mobile web browser, but also marks a huge investment back towards web apps that would deliver cross-platform compatibility and would not censor apps based on guidelines of the content store owners.
Via: SlashGear