TeleNav's Scout is Another Option for Free iPhone Voice GPS Navigation
TeleNav had just launched an update to its Scout app for iPhone that now delivers free voice-guided turn-by-turn instructions to users. Though not fully optimized for the iPhone 5's lengthened phone display resolution, Scout works well and provides excellent features, such as spoken street name, voice-guided instructions, and route optimization based on traffic conditions. The service, back when it was branded under TeleNav, used to be available as an a la carte add-on or as a subscription service so it's nice to see TeleNav opening up Scout to iPhone users who are looking for an alternative to Apple's criticized Maps app.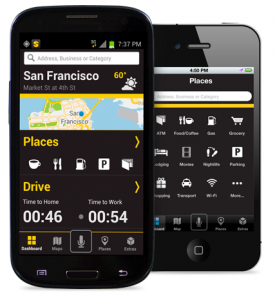 Other bundled features in the free app include:
My Dashboard:  When the app launches, the dashboard features real-time ETA's to the user's Work and to Home, easy access to their saved favorites and popular places nearby, a current map of their location and the local weather
My Places:  Users can save and share the places they love for easy access at any time
My Search:  Customers can search millions of Places including popular restaurants, gas price listings, nearby parking lots and Wi-Fi hot spots. After searching, Scout remembers friends, favorites, and recent places
Traffic:  Scout includes real-time traffic information
Speech recognition: Users can speak in an address or search by using commands like "Find a nearby Starbucks" or "Drive to Home"
NEW! Scout offers 12 new car icons to choose from including a convertible, motorcycle, SUV, minivan, muscle car and sports car
Though users with Internet connectivity on their phones do not have to worry about downloading copious mapping data and can just go and pull down mapping info as they drive and navigate, Scout also now offers the option for users to pre-download maps in areas where there is spotty or weak cellular coverage, or if users don't want to run a big data bill. Nokia's recently announced Here maps for iOS offers the same feature, but Scout goes a step further by offering free voice-guided turn-by-turn driving instructions whereas Nokia only offers voice guidance for walking navigation.
In the past, TeleNav's service was also bundled with various carrier plans, such as Sprint Navigation. TeleNav also powered AT&T's and T-Mobile's navigation engines in the past.
The Scout app provides a nice alternative to Apple Maps, which was criticized for its lack of accuracy. Users can head to the Apple App Store to download Scout for their iPhone.

As an Amazon Associate I earn from qualifying purchases.