Temple Run 2 Arrives on iPhone Tonight
Temple Run 2 is coming to the iPhone and iPad tonight according to TouchArcade.
The sequel to Temple Run is already available in the New Zealand App Store, which means it will arrive in the U.S. between 11 p.m. and midnight on the East Coast tonight. Like the original, Temple Run 2 is free-to-play so players only have to pay for the game if they want to buy items in-game.
Temple Run 2 features the same basic gameplay as Temple Run, with some graphical upgrades. Players are still trying to escape an ancient temple and the monkeys held within. The new graphics also make the roads twist and turn from time to time to make them seem more realistic than the perfectly straight trails of the first game.
The new game has a new environment, however, with what looks like a floating temple which likely means fewer swampy areas in the game. The sequel also features one giant monkey chasing Guy instead of a collection of smaller monkeys.
The Temple Run sequel also adds in a few new gameplay tweaks. The game adds ziplines for Guy to slide down and mine carts for him to ride as he escapes. Temple Run also adds a few new powerups for players to take advantage of, though it's not clear how many powerups there are for players to enjoy.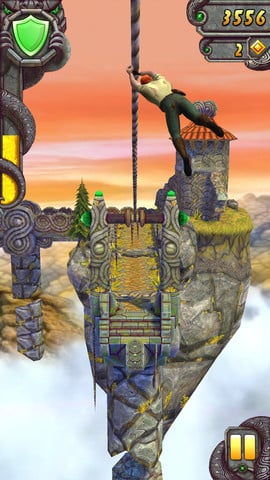 While Temple Run 2 is coming to iOS, there's no word yet on an Android version of the game. The original game didn't come to Android for months, but that likely isn't the case for Temple Run 2, as Imangi Studios now has experience developing games for Android.
There's also no word on a Windows Phone release of the game. Microsoft promised the first Temple Run would come to the Windows Phone Store by holiday 2012, but it's still missing from the store.

As an Amazon Associate I earn from qualifying purchases.