Temple Run 2 Now Available on Android And Kindle
About a week after its debut on iPhone and iPad Temple Run 2 is now available to Android devices in the Google Play Store and the Amazon Appstore.
Temple Run 2 is free in both app stores, as it is in the iOS App Store. Like the original Temple Run the only things users have to pay for are in-game items. Those items include a coin multiplier, collections of coins to buy upgrades and collections of gems to save the runner and continue on a run.
The basic gameplay of Temple Run 2 is the same as the original game. Guy Dangerous, or one of the unlockable characters, stole an artifact from an ancient temple, and now they're running away. The endless runner has players jumping over and sliding under obstacles forever in a futile attempt to finally escape the giant demon monkey chasing them.
Temple Run 2 adds a few changes to Temple Run, however. The path in this new game is 3D, meaning players will occasionally run over hills or up stairs, partially obscuring their view of the next obstacle.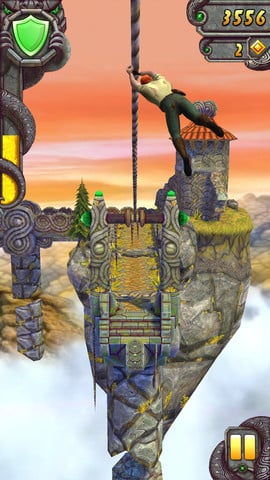 The game also adds zip lines which give players long sections of the run where they're in little danger. The new mine carts add sections where players can only move by tilting their device instead of swiping to turn around corners.
The product page of Temple Run 2 in the Google Play Store says the game will run on any device running Android 2.1 or above. There are some complaints from users with older devices that it doesn't run well on their devices. Recent Android phones should have no problems running the game, but the 3D graphics are likely too much for older or lower-end Android phones.
While Temple Run 2 is now on both Android and iOS, there's no word on a Windows Phone version. Microsoft announced the first Temple Run would come to the platform by holiday 2012, and it still isn't in the Windows Phone Store.

As an Amazon Associate I earn from qualifying purchases.