Temple Run 2 Now Fastest Growing Mobile Game
Today Imangi Studios announced that after two weeks users downloaded its new game Temple Run 2 more than 50 million times.
With more than 50 million downloads in two weeks, Imangi Studios claims Temple Run 2 is not the fastest growing mobile game ever. Rovio previously claimed that title when users downloaded its Angry Birds Space 50 million times in 35 days. Temple Runs 2 took less than half that time to reach the 50 million downloads milestone.
Imangi Studios and Rovio use the term "fastest growing" because their games are free. Temple Run 2 is free on all platforms, with only In-app purchases that cost money. Angry Birds Space, however, costs $0.99 on the iPhone, but there is also a free ad-supported version available on Android.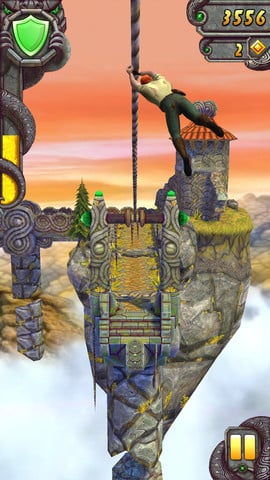 Temple Run 2 first came to iPhone and iPad two weeks ago, and launched on Android in the Google Play Store and Amazon Appstore last week. The endless runner quickly reached the number one spot on top free lists in each store shortly after release. In its first day of availability on iOS alone gamers downloaded the game 6 million times.
The game is still near the top of both lists, though it's currently only number two in the App Store.
Users have downloaded the original Temple Run more than 170 million times since its release in 2010. Based on its growth, Temple Run 2 could surpass the original game in a shorter period of time.
Temple Run 2 adds a number of new features to the game while maintaining the addictive gameplay of the original game. The biggest chance is the new temple. The new temple has improved graphics and 3D terrain. That means players will occasionally go over hills and up stair cases which will partially block the rest of the path from view.
The new game also adds new powerup abilities, a single demon monkey and a gem system for saving the character, letting gamers continue their runs.

As an Amazon Associate I earn from qualifying purchases.