Tempo Aims To Make The iPhone Calendar Experience Better
New iPhone app Tempo aims to help users with busy calendars by incorporating all the information they might need for every meeting and event.
Instead of just showing users their agenda Tempo uses its own algorithms to pull every bit of data users will need for each event. For example, Tempo can find the location of a meeting place even without an exact address. The app will then give users directions on how to get to their meeting on time. The app will even help users find parking for the meeting.
Tempo will also pull in documents and emails relating to each event, so users don't have to search for them. In the event view Tempo will display all emails relating to the event, so users just have to tap on them to view the info they need. The same applies to documents including PDFs, Word documents, PowerPoint presentations and Excel spreadsheets.
The new calendar can link up to Facebook and LinkedIn so users can get information on others attending their meeting. That info includes email addresses and phone numbers. Tempo gives users the option to sent an automatic email or text message when they're running late with just one tap.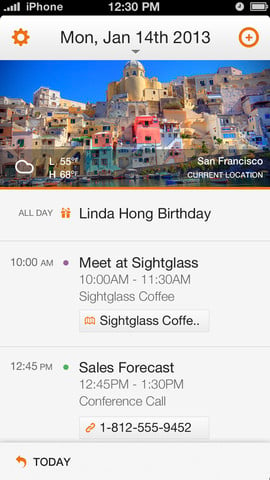 Syncing to social networks means Tempo can also remind users of birthdays.
Like the recent Mailbox app Tempo is only letting a few users into its app at a time at the moment. Unlike Mailbox, however, Tempo doesn't have a queue.
Instead users have to attempt to sign up for an account through the app and hope they can get through. As of this writing the app is not letting in new users, but the developers said on Twitter they're turning registration on and off at times to allow in 1000 users at a time.
Tempo is available for free in the App Store, if you can get in.

As an Amazon Associate I earn from qualifying purchases.