Ten One Design Announces Pogo Connect Stylus Using Bluetooth 4.0
There was a time when the stylus was considered an absolute accessory for mobile devices. Then came touch and the stylus became to those who thought like Steve Jobs about as useful as an appendix, the vestigial organ not what you find at the end of a book. Well, not to be outdone, the stylus has survived and if you look around, actually thriving. Artists use them on Tablets. Note takers use them on Tablets. Samsung is investing quite a bit in the stylus with its Galaxy Note line of Tablets. We've seen quite a few on Kickstarter.
Ten One Design which can arguably be said to have made popular the first iPhone (yes before the iPad) stylus, the PogoSketch is now introducing a new stylus called the Pogo Connect, and from the looks of things, I'll be giving this a real try out.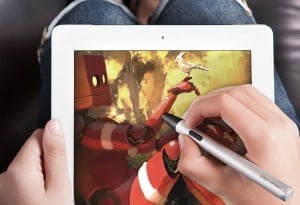 Previously called under the project name, Blue Tiger, Ten One Design is calling the Pogo Connect  the "World's First Pressure-Sensitive Bluetooth 4.0 Stylus for the New iPad." Boasting pressure sensitivity, the Pogo Connect is powered by one AAA battery and looks like it will offer some interesting functionality, including a sensor that will help you find the stylus if you leave it in the wrong place. The Pogo Connect will require iOS Apps to integrate support for the pen and there are already 12 Apps that have done so with more on the way. (You can check out a list of these Apps here.)

Here's a quote from the press release:
The first-of-its-kind Pogo Connect sports a wild new patent pending technology the company calls a Crescendo Sensor, making the tip highly responsive to pressure and recognizing even the slightest touch. With zero grams of activation force, Crescendo Sensor works at all angles and requires absolutely no calibration, providing hundreds of levels of pressure. Plus, the solid state design means no moving parts, making the stylus incredibly reliable.
You can pre-order the Pogo Connect beginning October 1 or sign up to get on a pre-pre-order list at this link.   The Pogo Connect will be priced at $79.95. And yes, I've signed up.

This article may contain affiliate links. Click here for more details.