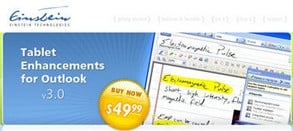 We've got winners! We had 10 correct submissions in the TEO 3.0 Free License contest and have randomly selected two winners from those 10 correct submissions. But before we announce the names of the winners, here are the correct answers.
In the GBM Audio Inkshow what two potential add-ins does Josh Einstein mention that he his working on or would like to add to TEO as future functionality? (you need to name both potential add-ins to get this one correct.) ANSWERS: Microsoft Visual Earth and TechSmith's SnagIt.
In the GBM Software Inkshow of TEO 3.0 what address am I looking for directions to for my meeting with Josh? ANSWER: 1600 Pennsylvania Ave, Washington DC.
And now for the winners: Congratulations to Matt Miller and Jim Prudner. You licenses are on the way to you, courtesy of Josh Einstein and Einsten Technologies. (Thanks, Josh!) Thanks to all who submitted entries and make sure you keep your eyes peeled for future GBM contests!