TEO 3.0 Going, Going… When a Home Run Might Not Be Enough To Win The Game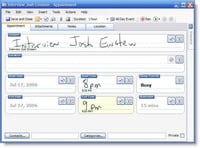 This is a fascinating, disappointing, and I guess you could say potentially sad post to write. Earlier today in looking through my feeds I came across this statement on Tablet Enhancements for Outlook (TEO) developer Josh Einstein's blog:
"Yeah unfortunately TEO 3.0 just isn't cutting it. Put aside for a moment the fact that I feel like I wasted a year of my life developing it. I would have been alot more successful had I stuck to my original plan and spent the year working on the Sylantro software. But TEO was the product that was paying the bills so it had to come first. It's not that it isn't a good and useful product, just that I lack the ability to properly market it and support it. I wish there were more Tablet PC software companies out there because I'd love to sell it to someone who would give it a good home."
So, is Josh's dissatisfaction a symptom of the Tablet PC marketplace or is it a rather a the tale of the small independent software developer (ISV)? Before I wrote anything about this, I pinged Josh and asked him about this thoughts. Here is what he said to GottaBeMobile exclusively:
JE: "I don't think my experience really bears any reflection on the overall state of the tablet pc or anything. it's more a reflection of my own limitations sales and marketing-wise."
GBM: Folks will want to know if TEO stops here as far as you are concerned.
JE: "It's not a number #1 priority at the moment, but I'm not completely done with it yet."
GBM: Is it fair to say you are contemplating ending future development for TEO?
JE: "It's not so much that I'm contemplating ending future development as much as that I am not at this time seeing a business case for a new version. In hindsight, there wasn't a business case for TEO 3.0 either since TEO 2.0 was selling just as well and upgrades to 3.0 were few. I mean I guess they're the same thing but it's not like I am trying to give it the axe, more like I don't think people want future development so there's no point in wasting time. The failure of TEO is nearly completely due to my inability to reach any deals with OEM's and Microsoft as well as my inability to market it outside of the small enthusiast community. The TEO 3 numbers I'm seeing are nearly identical to the TEO 2 numbers over the last year or so. Which isn't good – it wasn't enough to match a decent salary and definitely not enough to support me and my family without taking on side projects as well. The hope was that TEO 3 would increase my conversion rate from trial to paying customer and thus double or triple my sales which would have been a nice income, but unfortunately that didn't happen. TEO 3 resulted in little or no difference over TEO 2 in terms of downloads and conversion rate."
Here's my thoughts. TEO 3.0 (and 2.0 for that matter) is an amazing product for the Tablet PC. It is a definite home run. I've made no secret about my feelings that it is a "MUST HAVE APP FOR THE TABLET PC." In fact, it is an app that I can't imagine myself using my Tablet PC without. I and many other Tableteers have gone on the record stating that Microsoft should just simply cut Josh a check and buy TEO and integrate it into Outlook. Josh has an amazing vision and attention to detail in his efforts and they are abundantly apparent in TEO 3.0. Josh has reached one of those decision points that any small business person reaches when he/she has to measure the return against the investment in time and resources.
Although I agree with Josh that this isn't a symptom of the Tablet PC software market, it is safe to say it is a small market at the moment and any market, large or small, has its perils. Smaller ones even more so.
But I'll say this, based on my experience with TEO, as Josh contemplates consulting or entering the corporate world, someone looking for an ace developer with incomparable skills should jump on the opportunity to hire him. And, I'll say it again, Microsoft should buy TEO 3.0 and run with it. I don't think anyone could do any better. And as for those of you with a Tablet PC. I'd pick up a copy of TEO 3.0 and give it a go. Whether you are using Office 2003 or 2007, you won't find a better quality experience on your Tablet PC.

As an Amazon Associate I earn from qualifying purchases.