TerreStar GENUS Windows Satellite Phone Now Available to Mere Mortals
Back in September, AT&T launched the TerreStar GENUS Windows Satellite Phone, a device that combines both AT&T's network and also gets service using satellite connectivity via TerreStar's GMR-1 3G satellite network.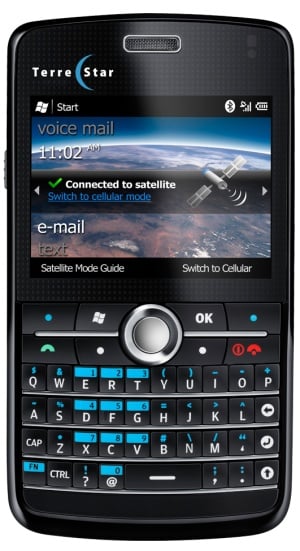 That means that the phone can get service anywhere in the United States, Puerto Rico or the U.S. Virgin Islands within 200 miles of a coastline.
Up until now, the phone has only been available to corporations and government agencies that get the device directly from OEMs.
Those days are over now though because Amazon Wireless has managed to get their hands on some TerreStar GENUS Windows Satellite Phones and they are offering them to mere mortals aka everyday consumers.
Amazon has made the TerreStar GENUS Windows Satellite Phone available for a cool $899. Extremely price but if you can't live without service but can live with mediocre specifications (it runs Windows Mobile 6.5.3), then this might be a device to take a look at.
Visit Amazon Wireles for more info.
TerreStar GENUS Windows Satellite Phone Specs
Fast 3G connectivity via AT&T's HSDPA/UMTS network (850/1900 MHz bands)
Satellite connectivity via TerreStar's GMR-1 3G satellite network (2000-2010, 2190-2200 MHz S-band)
Wi-Fi networking (802.11b/g) for accessing home and corporate networks as well as hotspots while on the go
Onboard GPS for navigation and location services
Bluetooth connectivity (version 2.0)
Windows Mobile 6.5.3 operating system provides enhancements such as a touch-friendly user interface and improved browser with Flash support. Content and applications are just a fingertip away on the redesigned Start Menu and Internet Explorer Mobile supports the rich experiences you find on Web pages viewed on your PC. (Learn more)
View and edit with Excel Mobile, OneNote Mobile and Word Mobile or view important presentations with PowerPoint Mobile
2.6-inch touchscreen (320 x 240 pixels; 16 million color depth) for stylus and finger use
Full QWERTY keyboard
2.0-megapixel camera with autofocus and digital zoom
Video capture capabilities
Music player compatible with MP3, WMA, and AAC formats
Memory expansion via microSD card slot with support for optional cards up to 16 GB
Messaging capabilities including SMS text, and IM instant messaging (via popular services)
HTML Web browser
Speakerphone for hands-free communication
USB 2.0 port supporting data modem, firmware update, ActiveSync

As an Amazon Associate I earn from qualifying purchases.