Tesla Denied Dealer License in State of Virginia
Based on a recent tweet by Tesla CEO Elon Musk, the Virginia Department of Motor Vehicles denied Tesla a dealership license to operate a sales center within the state of Virginia.
Tesla has been in various legal battles throughout the country, recently scoring a victory in New York. The battles are over the rights to sell vehicles directly to customers. According to Musk, the Hearing Officer was in favor of granting the license, but the department went against the officer and struck down the license.
Tesla currently offers their vehicles online through the website for order (deposit can be made via PayPal or any major credit card) or through one of their studios. Despite being able to order online, in order to sell in each state (which provides the studio for delivery and service) they must have approval to sell in those states.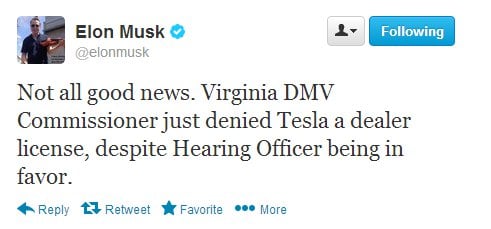 Tesla is currently fighting a battle in Texas, where a lot is on the line. Not only does Tesla want to continue to sell vehicles there, but they are also planning on building a new production center and developing a pickup truck. Continued development of that vehicle, and the new jobs it would bring, is based on whether Tesla wins their case in court.
Tesla is attempting to utilize a direct dealership model that Musk believes would be much more appealing to his clientele. Technologically-savvy individuals are his main target, with vehicles sold in extremely high volumes in California (where a charging infrastructure exists). Many of these people are using their cell phones to purchase items online, avoiding a traditional sales model with all of their goods. Allowing Tesla to sell direct would result in a no-negotiation dealership experience, where the customer configures their Tesla vehicle just like they would configure a MacBook Pro for order.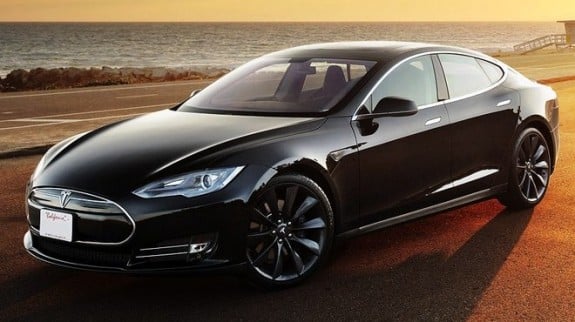 Even though it may be preferred by customers, a direct sales model is technically illegal. Legislation requires any car dealership to be an independent franchise and not a corporate-owned store. Musk wants to shake up that model by providing a barrier-less dealership experience, and an excellent service experience. He wants to shift the entire automotive paradigm. This shift is working despite the legal battles. Tesla stock closed today at a record high.

As an Amazon Associate I earn from qualifying purchases.