Testing Digital Inking in Evernote Android Beta
Yesterday we reported that Evernote was in the process of testing Digital Inking in a Beta for its Android App. To test the Beta you need to enroll in a Google+ group. The group is also for testers of Skitch, also owned by Evernote. I enrolled and got access to the Beta and have been testing it out. Suffice it to say, for Digital Inkers this looks very promising.
Evernote was a favorite application for Digital Inkers back in the day of Tablet PCs but with the demise of Microsoft's Tablet vision and the rise of other mobile opportunities Evernote took other paths to become one of the most popular Apps on all mobile device platforms. (It still isn't working correctly on the Windows 8.1 RT devices yet.) But just this week Evernote announced the Beta for its Android platform.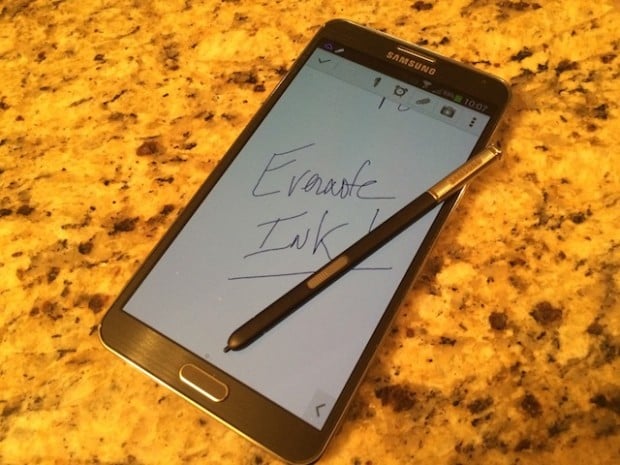 Keep in mind this is a Beta, so if you apply and are accepted for the Beta you might find issues with Evernote on your Android device. That's the way Betas work. Assuming you are accepted into the Beta the next time Evernote updates on your Android device you'll get the Beta bits installed. In my case that didn't take long.
Once you fire up Evernote and go to create a new note, you'll see a Pen icon across the top menu. Note I am testing this on a Samsung Galaxy Note 3.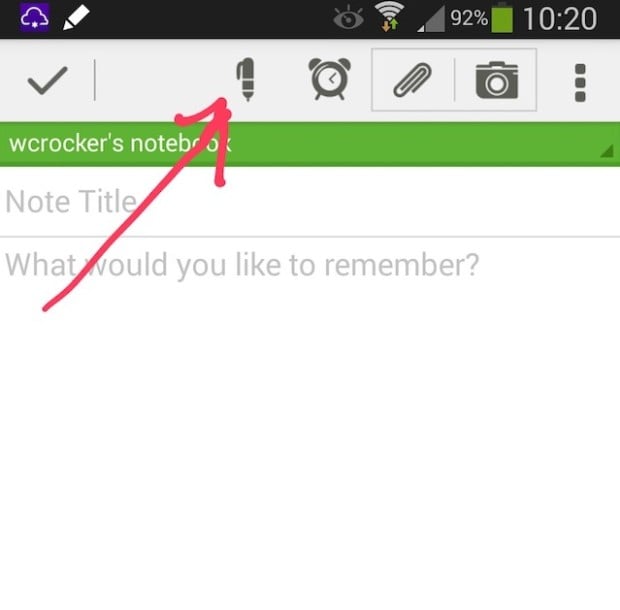 Once you tap to select that Pen you are presented with a new page with a graph background. The menu bar across the top of the page gives you options to choose from among four ink colors (black, gray, red, and blue) as well as three choices of brush width.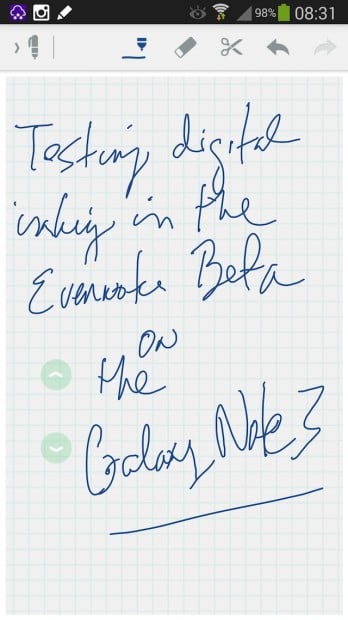 You also have an eraser and a Cut tool which allows you to lasso a section of your Digital Ink and move it around the page. Undo and Redo controls are also present.
On the page are two arrows pointing up and down to allow you to scroll up or down a page. After filling a page with Digital Ink the down arrow becomes a + sign to allow you to add a page. Once you're done with your doodling or note taking, you're returned to Evernote and the grid background disappears giving you Digital Ink on a blank page. Notes in Digital Ink are syncing well across the various platforms I use Evernote with.
As to the Inking experience it works well enough in this early Beta, but it is an early Beta. Ink doesn't flow as smoothly as it does in Samsung's SPen apps. The Beta is working just fine with Samsung's technology here, although there is no direct integration.
There are several Digital Inking Apps available on the Android platform including Samsung's SPen apps. Most of those allow export to Evernote, but being able to scribble a quick note directly into Evernote will be a boon to many Digital Inkers. Keep in mind there is no handwriting recognition available in this Beta, nor announced plans to add it in the future. Nor can you mark up an existing note at present. Again, this is an early Beta so what features may or may not appear in the future are yet to be seen But for Digital Ink note takers who need to scribble a quick note or make a quick sketch and use Evernote this looks promising.

As an Amazon Associate I earn from qualifying purchases.