Owners of AT&T's New iPad Take Heed: Tether for iOS Has Returned
Back in November, a curious application called iTether snuck into the App Store and allowed iOS devices owners full USB tethering without requiring them to switch their data plans or sign up for an official tethering plan. Almost immediately, Apple pulled the application. However, Tether has made its triumphant return only this time, it's not available through the iOS App Store but through the web instead.
Owners of the iPad and iPhone currently can sign up for the service for $15 for the entire year if done within the next week. After that, the service is going to move to $30 per year.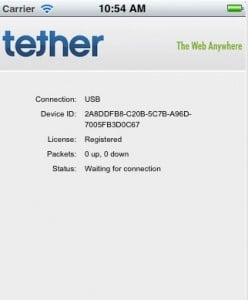 So how does it work exactly?
Well you can get an idea from the video below, but the premise plays out like so. It's an HTML5-only solution that allows you to connect your phone or tablet to an ad hoc Wi-Fi network that will be shared with your PC.
Once that's done, you'll just go to a website on your phone, log-in, and if done correctly, you'll be able to use your phone like a modem.
The whole thing is apparently wireless, works with 3G connections and is data encrypted.
Now, before you get too excited, you'll want to make sure that mobile hotspot isn't baked into your data plan already. You wouldn't want to sign up for this service if you're already paying for tethering.
On paper, this seems like a great solution for future owners of the AT&T 4G LTE iPad, a device that as of right now, does not support mobile hotspot support.
It'll be interesting to see how the carriers, and Apple, respond to this service in the days ahead. If there's one thing all of them have in common it's that they like to make money and this service seemingly hinders that.
Via: 9to5Mac

This article may contain affiliate links. Click here for more details.