Tether Your Android Without Root for Free with ClockworkMod Tether
Tethering your Mac or PC to your Android phone for internet access just got a lot easier and safer with the release of ClockworkMod Tether for Android.
This new app allows you to tether your Android smartphone, including the Galaxy Nexus, to your Windows, Mac or Linux computer to share your phone's internet connection.
Unlike most other solutions, this free Android tethering app doesn't require you to root your phone. Another big plus for most users is that this app doesn't require the addition of a tethering plan with your carrier, which can run $20 to $30 a month.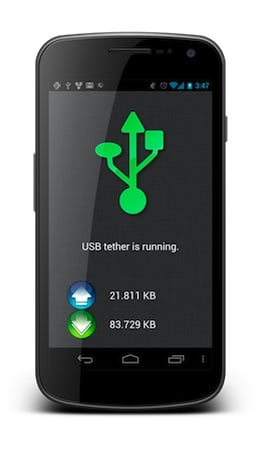 The ClockworkMod Tether app is in alpha stage right now, but appears to be working already. Unlike the built in tethering apps on most phones, you will need to connect your phone by USB to make this work. Bluetooth connectivity is in the works, but there is no ETA.
You will also need to install a small application on your computer that makes the connection work. ClockwordMod Tether will use this app and other tricks to hide your tethering from carriers. This is important because carriers do not allow tethering without a specific tethering plan.
You can download the free tethering app and try it out with your phone today, but this version will shut off on January 7th. New versions of the app will be made available as progress is made. Expect to see a more polished version made available for sale in the near future as a one time payment purchase.
If you are worried about flouting carrier rules, leave this one alone and purchase a tethering plan from your carrier when you need one. Unlike this solution, you can share the connection with your iPad and your computer. Given the flow of cash that carriers are getting from tethering plans, this app may face issues down the road, so keep that in mind before you buy the final version.