That's one barebones Tablet PC
Received a somewhat cryptic tip from jkk of jkkmobile today. Subject line was simply "New 12 inch tablet" followed by a link. For a moment, I could hear Admiral Ackbar scream "It's a trap!" Surely if this was really jkk, he would have mentioned a brand or something. But then a second email followed, tantalizing us with mention of a dock. Fine, I guess it's legit, but why the mystery?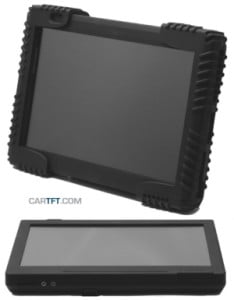 Turns out there was no mystery. The subject line could not be more precise. CARTFT, an automotive PC specialist, did indeed list a new 12″ Tablet PC, and it could be the most boring box of a slate I have ever seen. 12.1″ WXGA TFT, 1280×800, resistive touchscreen, GPS, 802.11n wifi, VIA C7 1.6Ghz processor, and that's about it. It's a barebones unit, so you supply your own hard drive and memory.
Granted, it's semi-rugged, so it's all about function not form, but still, that is one unsexy box. Price is 899 Euros or about US$ 1350 (sexy or not, semi-rugged costs money). Thanks to jkk for the tip, and sorry for doubting you. Your subject line was spot-on. :)