That's One Big Battery: 9 Cell Now Available for MSI Wind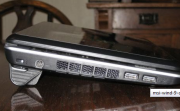 Wow. That's one big battery. You can now get a 9 cell battery for the MSI Wind, assuming you want to make the trade-off on size for power. This 19 ounce battery will supposedly boost your battery life to 8 to 10 hours which is sweet, but the size is something else again.  Although it does look like it provides a nice tilt to the device. Ah, the trade offs, the trade offs. Folks are seeing this start to show up on eBay in the United Kingdom.
Via Wired

As an Amazon Associate I earn from qualifying purchases.