That's Some Tablet You've Got There Wacom
How's this for a Tablet? The Cintiq 20WSX gives you a 20.1 inch screen with a 16:10 aspect ratio. If this is what you're looking for it sounds like one sweet choice for an artist. Of course it will set you back $2000. Wacom is coming out with some very interesting Tablets these days, and this line with a full screen is certainly capturing a lot of attention.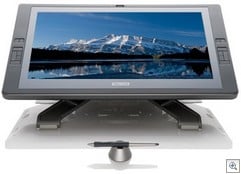 Via Engadget

This article may contain affiliate links. Click here for more details.